The Internet is a powerful medium used by retail businesses worldwide. Companies and eCommerce stores need to update their resources as technology keeps upgrading. For example, your WooCommerce store website needs to have Search Engine Optimisation to rank higher and get more sales and conversions. However, currently, eCommerce voice search has become an increasingly popular technology.
Using your devices manually to search for a product is now a thing of the past. With companies launching devices like Alexa, Siri and Google Home, customers have adapted to voice search technology. An estimated 45 million consumers use voice search for online shopping on eCommerce portals.
What is eCommerce Voice Search?
Voice search technology allows users to utilize voice commands to conduct an internet search and deliver efficient results. Users can also use specific voice commands to direct the search to different websites or applications. Voice search needs optimization for a search engine similar to the website content. It includes integrating keywords in your landing pages – so that the voice search devices can read them out when the customer looks for a particular query.
eCommerce voice search helps store owners with numerous tasks like follows:
Makes it convenient for customers to use their voice
Enable you to ask for queries in a organic and conversational manner
Uses AI to identify words and phrases
Minimizes mistakes to deliver accurate results
Reduces the need for typing queries for products
Instead of typing the name of the product you want, you can use a voice search device and ask them to show you different types of shoes.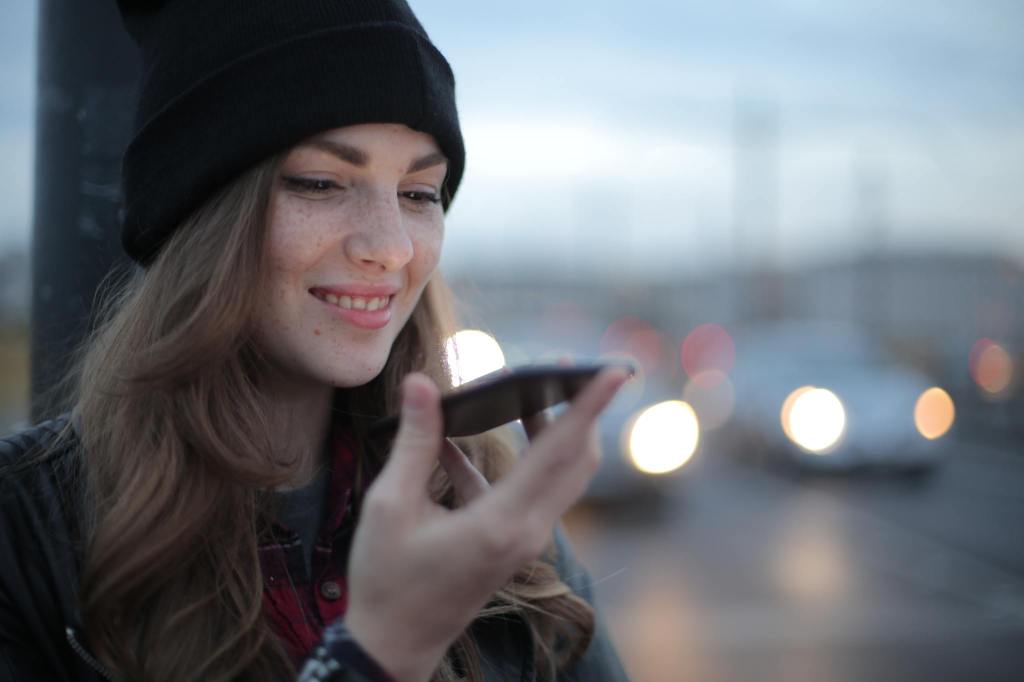 Source: Photo by Andrea Piacquadio on Pexels
Impact of voice search on eCommerce
Voice search is a leading strategy in marketing, with 41% of adults using voice search at least once per day. It is a highly convenient form of shopping as it provides multiple options and eliminates the need to spell every product and brand correctly. One of the positive impacts of voice search technology is that it delivers a personalized shopping experience. It does the following:
Delivers highly personalized results depending on your command
Increases time efficiency by saving significant time required for manual search
Boosts traffic by appealing to the audience
Provides access to relevant content with the help of a highly intuitive technology like AI
These positive impacts of eCommerce voice search indicate that you can use voice search in your WooCommerce store.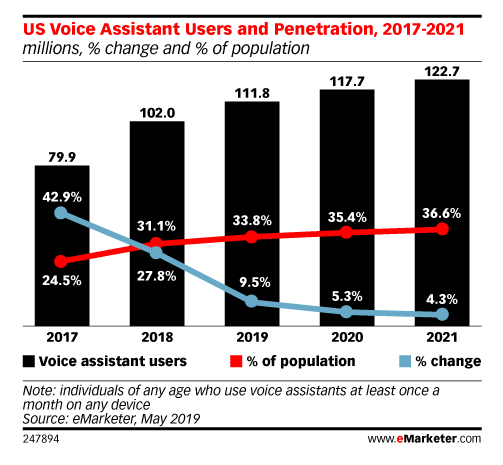 Source: Smart insights
Steps to optimize your store for voice search
You can take the following steps to optimize your WooCommerce store for voice search. They can help you achieve the best results and help your store website gain more visibility on voice search devices.
Leverage spoken searches and SEO
There is a difference between how you type and speak to search for a particular product. While searching on your mobile devices by typing, you may use a string of keywords, for example, best sports shoes or Nike sports shoes. On the other hand, when you use a voice search device, you may ask it a question directly. Therefore, ensure that you use the power of spoken searches and refer to social media for SEO strategies and trends.
Focus on the user journey
Your WooCommerce store's goal is to sell your products to your customers successfully. Many people abandon the purchase during its last stages leading to an abandoned cart. The same can happen when they use voice search in your store. Therefore, you need to emphasize the user journey as the store owner. You must use different methods to appeal to your customers and make the user journey pleasurable. Some of these methods can include:
Focus on the pre-purchase and post-purchase experience along with a purchase experience
Try to increase brand awareness and trust through advertising
Nurture exceptional customer service
Never compromise with the quality of your products and services
Offer rewards to loyal customers
Focus on directing the marketing efforts on ideal customers
Optimize website speed
Improving your site speed is also essential in ensuring your eCommerce store performs well via voice search. Once you ask a query to your device, it will prefer to display the page that loads rapidly. Therefore, in addition to the content on your WooCommerce store website, you also need to ensure that it has a good speed. It can then be possible to rank higher as a voice search answer.
Optimize the questions
As stated earlier, people may prefer to ask questions instead of using key phrases to search for a product. Therefore, you need to optimize the queries to ensure that they align with what people realistically ask. Here are a few ways to optimize questions for voice search on your eCommerce store.
| | |
| --- | --- |
| Identify trigger words | Trigger words are the most used and appear very commonly in voice search queries. It can tell you what the user desires and the direction of their questions. How, what, where, when, why, best, top, free, do, etc., are popular trigger words observed in voice searches. |
| Target long-tail keywords | Long-tail keywords are the specific keyword phrases that people use when they are the closest to making a purchase decision. Even though their search volume is significantly lower, they are more specific. Using them in your WooCommerce store can help target customers who want to buy a particular product. |
| Use conversational keywords | You can look for conversational keywords to know which products in your store have been asked for before by different customers. |
| Check the query's length | Finding the exact keyword data for your WooCommerce store can sometimes be challenging. In that case, you can check the length of the queries. A longer search query can indicate more voice searches on that topic. |
Focus on featured snippets
As we know, search engines like Google display advertisements at the top of the page. Featured snippets are selected search results featured above all results on Google. Landing in that position can be highly beneficial for your WooCommerce business as most customers tend to purchase from the first few search results.
Modify website structure
The structure of your website can also significantly impact how the information on your site is indexed. If your website has a good system, it can display the most accurate and reliable results via voice search. You can implement different schemas to ensure your WooCommerce store website is structured correctly.
Use voice search strategies
After completing these steps, you can use numerous voice search strategies on your eCommerce store. If building and applying a strategy is intimidating, you can consider consulting a professional marketing agency to guide you through the process.
Understand customer type and behavior
In addition to all the technical intricacies like data points and algorithms, it is equally important to understand customers and their behavior. It can help you gain insights into the kind of questions that people may ask for their voice searches.
Create FAQ pages that answer questions
Every good eCommerce store needs an FAQ page to highlight the most-asked questions by customers. You can structure this content on a single page and include keywords. Therefore, if a customer puts in a voice search query for one of the questions on your page, you can give them a specific answer.
Optimize for mobile devices
Mobile devices also use voice search software like Google Assistant and Siri. They represent almost 55% of total web traffic. If you optimize your WooCommerce store website and its content for mobile devices, you can gain better visibility through voice searches for eCommerce on mobiles.
Schema Markup
You can add schema markup to add depth to the existing structured data. It can help your eCommerce store and its products stand out on relevant search engines.
Conversational Content
The questions people ask on voice searches are likely conversational as they speak to the devices. Therefore, the content of your website also needs to be equally conversational and engaging. You can keep your answers clear and concise and convey the essential details in a compelling manner.
As the store owner, consider boosting the visibility of your products. Therefore, ensure that your WooCommerce store becomes a part of Google's various services. You can add the products from your store to Google Shopping. You can also list your eCommerce store on Google Business to improve your voice search results.
The Bottom Line
As technology becomes widely available, voice search technology will improve tremendously. It can also be more accessible due to the increasing smartphone use. Therefore, you can leverage this technology by understanding how it can benefit your WooCommerce store in the long run.