WooCommerce stores are easy-to-customize. That's the reason why most of the online stores run on WordPress WooCommerce. If you are selling products that are uncommon or have a complex functioning methods, you might want to display product attachment WooCommerce User Guide PDF for your registered users.
Well, WooCommerce lets you do that, but you will have to use the Product Attachment for WooCommerce plugin for this purpose.
Using this plugin, you won't just be able to WooCommerce attach PDF to email, but also the images, externals links, audio files, video files and other kinds of files to emails, product pages and a few more pages. It lets you attach files to order details, order completion, thank page, my account and other pages too.
To improve your store's operational capability, you might also want to read this article: How to Charge WooCommerce Extra Fees based on user roles?
Coming back to the WooCommerce attach file to order functionality, handled separately for various types of store user roles. It can also be done using this plugin easily.
If you are wondering where you might need to show/hide product attachments for different user roles for your WooCommerce stores, let us explain that first.
For those having a good understanding of why this user role based authorization related to the product attachment is required, the how-to steps are listed just below the next section. You can skip this part and read the procedure itself.
Why WooCommerce attach a file to orders/pages as per user roles?
Product attachments are generally considered for the buyers only. Sellers think that the only purpose of adding attachments in the shop is to keep product pages neat, improve page load speed and educate the customers. Though it's also true, that's not the only case.
On adding user role-based control on Product attachments, its utility multiplies significantly. Here is why you must enable role-based access controls for your WooCommerce Shop:
1. To eliminate Extra Information for Guest Users
This reason is very obvious but yet to be stated. Shop owned want to provide all related information on their product pages, and end up cluttering the space for customers.
Such pages do not deliver the user experience as expected. So, if you will enable product attachments for buyers and WooCommerce attach PDF to email texts being sent to the customers, things will be improved.
2. To Educate your Buyers through WooCommerce User Guide PDF or other files Well
Product attachments could be in the form of text files, documents, PDF files, video files, external links and so on, when you add one or unlimited attachments through Product Attachment Plugin. Through such files, it is easy to transmit educational information to your buyers (customers and guests).
3. To Educate Resellers for better Pitching to Customers
As we said above, product attachments for various user roles make it usable for reasons beyond the direct buyers. If you have resellers in your WooCommerce store, you might want to add different details for them, in order to help them understand the product, its pricing and other details.
Doing so can help them pitch better to the customers and boost the sales indirectly. Using the product attachments for WooCommerce, it can be enabled very easily.
4. To help your Authors create better Content related to Shop Products
While the landing pages can impress the visitors and result in leads or sales, you cannot underestimate your blog pages and other content on the website. So, your author must have good knowledge of your products and details on how to promote the store products.
You can enable product attachments for the authors and provide them with the needed details in an organized manner. It will be very helpful for them to come up with useful content after this.
You will see significant improvement in your search engine ranking of your product listing, if this practice is implemented smartly and sincerely.
5. To Provide Additional Information related to Product Status to Store Administrators
Alongside the access control for user roles, good plugins let you control WooCommerce attach file to order functionality too. It means that you will be able to handle the attachments by order status too.
These features, in combination, will be very useful for streamlining the information for your administrators. You will be able to attach files for your admins as per order status and share with the crucial information to improve the order delivery and handling operations.
Not just these utilities but role-based access control for product attachment has several other benefits too. For example:
Eliminating unnecessary information for various user roles in the store.
Avoiding sharing important information for sellers/admins with customers while still being able to broadcast it faster to the relevant user groups.
Handling WooCommerce attach PDF to email functionality as per user roles.
Step-by-Step Guide: How to display product attachment as per user roles in your WooCommerce Store

To begin with, you must download a reliable plugin for attaching WooCommerce User Guide PDF or other types of links/files to the product page, order details page, or emails. Product attachment plugin is the best for this purpose.
Please note that show/hide product attachments as per user roles functionality is available for pro plugin users only. Free plugin comes will limited product attachments related features, suitable for small online stores with minimal needs.
You may find all essential details on getting started with this plugin (and beyond that).
Handling Visibility (User Role Based) and other General Settings

Once downloaded, the plugin's capabilities will be available to be accessed from the WordPress dashboard side menu bar. Just click on the plugin's name from there and you will see the plugin dashboard.
Navigate to Settings tab and look for the Frontend: Product Page section. It's on the top and won't be tough to find.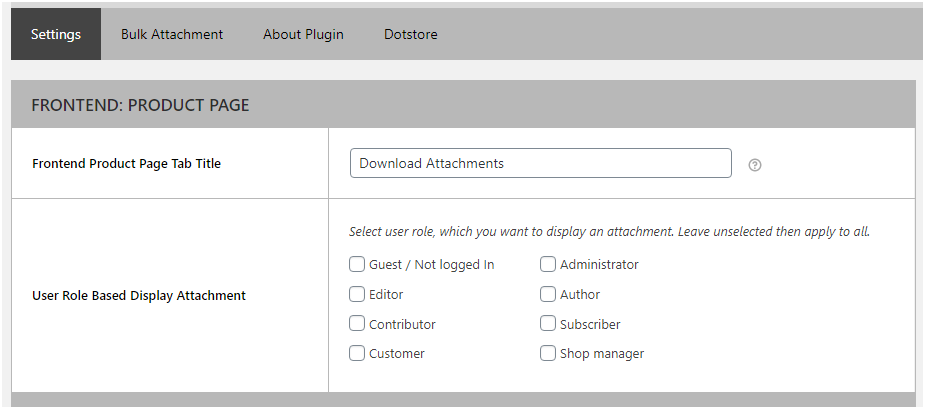 Here, you need to provide following details:
Product Page Tab Title
Provide a name for your attachment or attachment group here. Try to keep it meaningful and comprehensible. For example, for the manual, you may name the attachment as 'WooCommerce User Guide PDF'.
User Role Based Display Attachment
In this part, you can choose one or multiple user roles. As per the selected user roles, the visibility of the product attachments will be controlled.

Other Settings
Besides the above two details, you may also set orders page title, admin page title, enable/disable WooCommerce attach file to order, enable/disable WooCommerce attach PDF to email, attachment's position, order status, expiry date, attachment type (download/link) and file icons.
You may also choose to show/hide these attachments for my account page, thank you page and download tab too.
Creating Bulk Attachment

Once you have set the role-based visibility for product attachments for your WooCommerce store, you can create as many bulk attachments as you want.
Go to Bulk Attachments Tab to start creating attachments.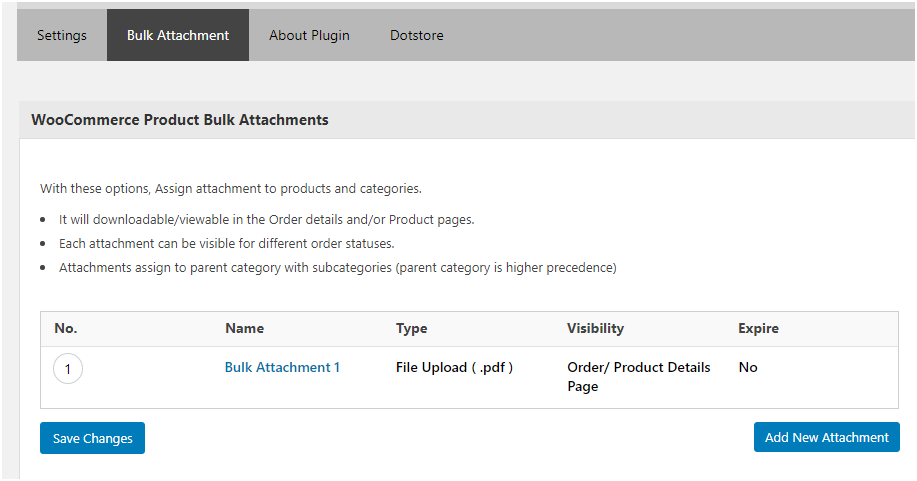 To create an additional attachment, click on the Add New Attachment button.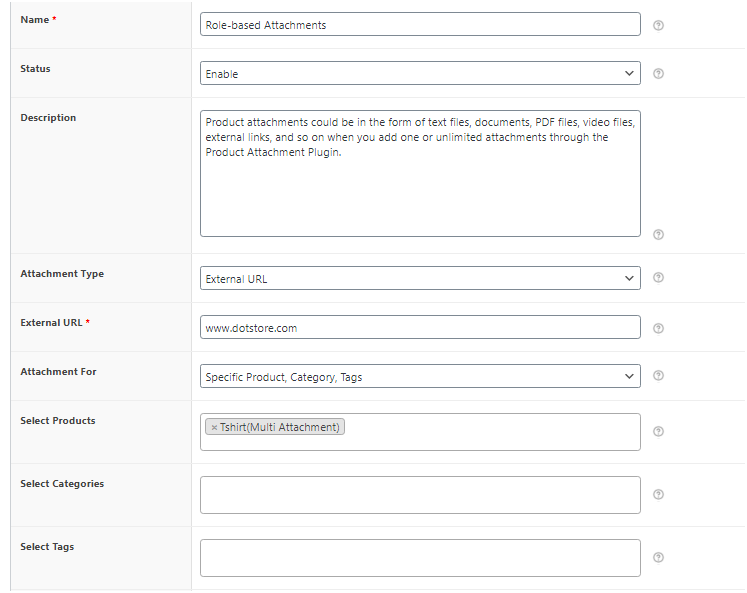 From this tab, you can add name, status, description, type, file/link, visibility (add it store-wide or enable attachment for product(s), tag(s), category(s)) and other such details for your bulk attachment.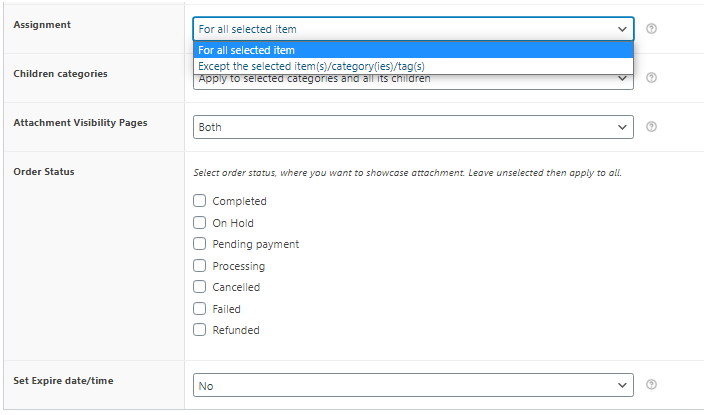 You may even exclude or include the selected categories/tags/products using the bulk attachment settings as shown above.
In the end, enable or disable your attachments as per order status(s) and save changes.
The attachments created through this plugin are fully-responsive and look good in your e-commerce store. Here is an example product page, for which, the product attachment is enabled and visible:
Product attachment can also be rendered on the order page while controlling its visibility as per user roles in your store. Here is an example: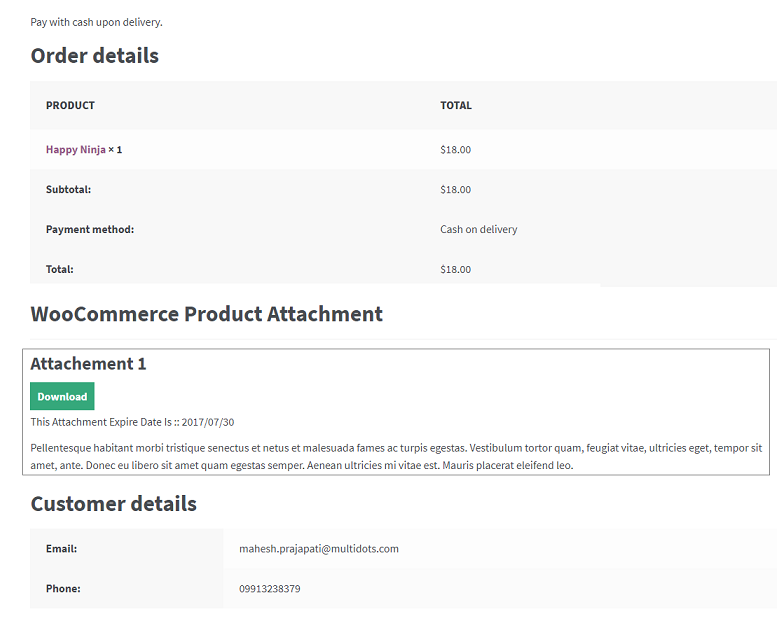 Even if you will add more than one product attachments, it won't look bad on your page: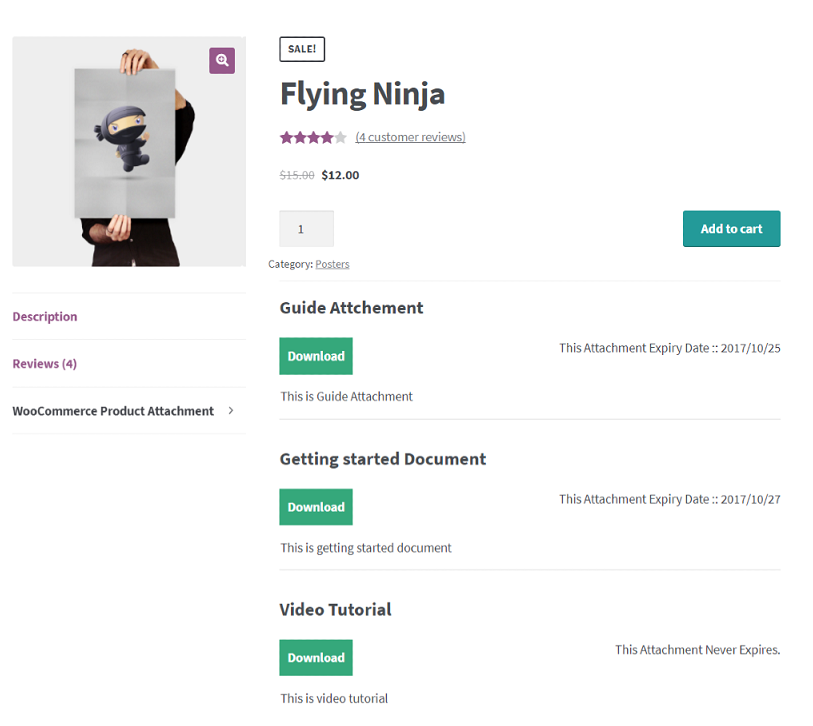 Conclusion

Shops generally want to add WooCommerce User Guide PDF files and other use files for their store users. Sometimes, you might also want to WooCommerce attach PDF to email too. So, WooCommerce attach file to order, pages or emails functionality is essential for various e-commerce stores. Whether you just want to enable/disable attachments or want to control their visibilities for various user roles, Product Attachment Plugin will suit your requirements.