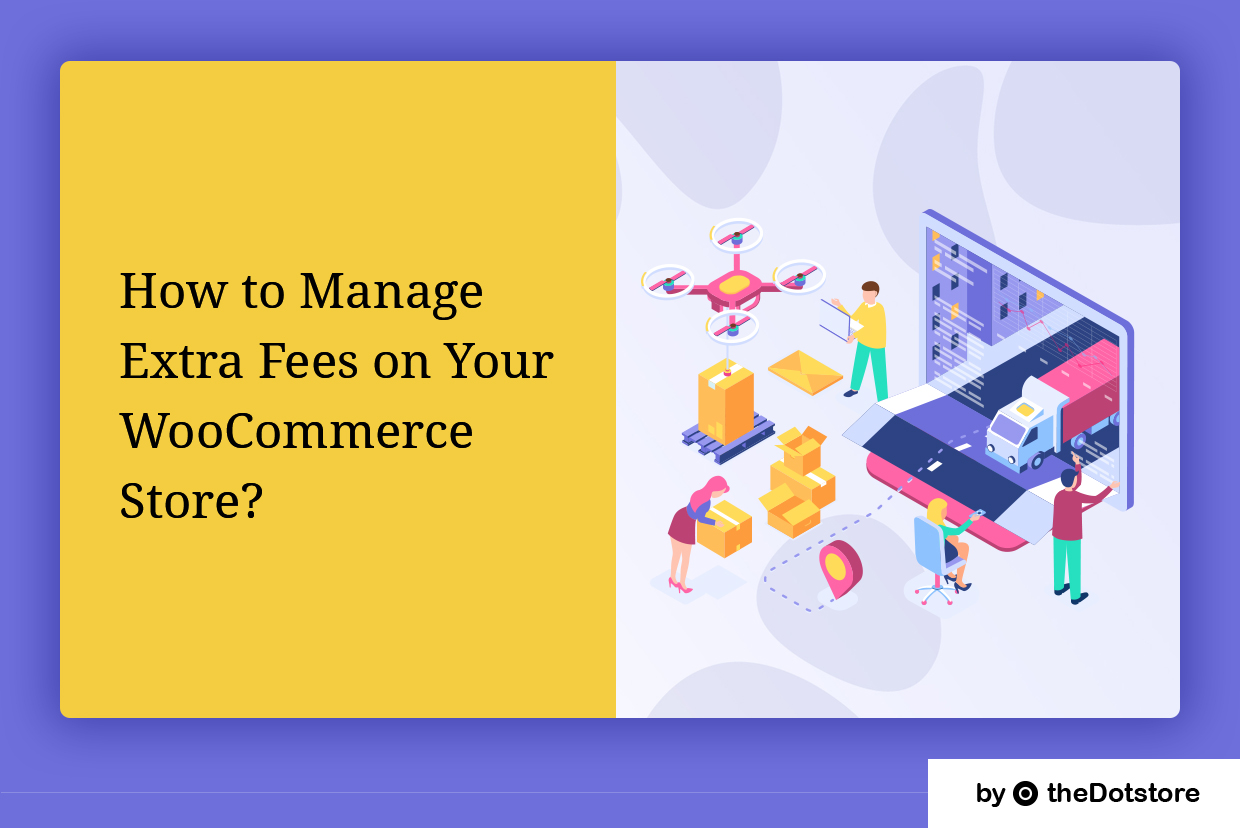 How to Manage Extra Fees on Your WooCommerce Store?
An e-commerce store should be developed in such a way that store owner could operate its business properly. It should exhibit all the features which a normal shop may have. In the process, you might need to add payment methods, shipping methods, shopping features, product descriptions, and more.
Unlike offline shops, WooCommerce businesses need to automate all their operations. If the e-commerce store fails to do so, it will become impossible for the shop owner to charge its customers the way he/she wants. For example, a store owner may want to charge $50 for exporting its product from Australia to America (apart from the shipping cost).
What will happen if his WooCommerce store is not capable of adding this condition?
He will either have to hire a developer to build a custom WooCommerce plugin or to download a good WooCommerce plugin with this capability. Latter looks a better idea as it saves time and money for the store owner and is well-tested by other users already.
In this article, we will tell you that which plugin will be good for managing the extra fees, what can be done through it and how to manage extra fees on your WooCommerce store.
Which Plugin to Use?
Whenever you are trying to find out a plugin with certain functionalities, try to select the one with all capabilities you need or you may need.
In case of extra fee feature, see if your plugin is able to charge extra fee on all basis as you want. If it does, you should select this WooCommerce plugin. WooCommerce Conditional Product Fees for checkout can be used for this purpose. This plugin has all extra fee related capabilities as you may need.
Tip: Install the plugin from the above link, because we are going to use it for the 'how to' part of the article, which you may want to follow.
Features of WooCommerce Conditional Product Fees for Checkout
The plugin lets the WooCommerce store owners set up conditional rules for the checkout. These rules can be based on different and multiple parameters like product name, delivery location, etc.
There are 2 versions of WooCommerce Conditional Product Fees for Checkout Plugin. Let us see what these are capable of:
· Free Version
The free version of this plugin will let you charge conditional extra fee rules for different countries and products. You can either apply these extra charges for a certain or uncertain time period. The amount can be made taxable or can be exempted from all taxes, as per your store's needs.
You can charge fixed or percentage-based extra price through this free plugin.
In case you are stuck while using the free version of this plugin, you can drop your query in WordPress Plugin Support forum to get help from the giant WP community.
· Premium Version
The premium plugin has all the capabilities which the free version had, though it allows you to charge the extra fee for many parameters. Not just for specific countries and product, you can charge an extra fee based on shipping zones, categories, tags, zip codes, user roles, user types, cart total before discount, cart total after discount, coupons, quantity, weight, shipping method, payment method, and shipping class through the premium plugin.
Create extra fees for Checkout based on:
Specific Countries
Specific State
Specific Shipping Zone
Specific Zipcode
Specific Products
Specific Category
Specific Tag
Specific User
Specific User Role
Cart Subtotal (Before Discount)
Cart Subtotal (After Discount)
Cart Item Quantity
Cart Item Weight
Specific Coupon
Specific Shipping Class
Specific Shipping Method
Specific Payment Method
Apart from the assistance from WordPress forum, premium plugin users are eligible for getting instant e-mail support too.
Who needs this Functionality for their Store?
If you ask us, all e-commerce store owners or online service sellers need this plugin.
Sometimes, you need to charge extra cost as per the international rules while sometimes you provide additional services with your products (e.g. setup) which are chargeable. Reasons could be many, but to keep your store adhering to the actual costing rules of your business, you definitely need this plugin.
In case you own a big online store or want to charge additional fees based on the parameters other than country and product, you will need to upgrade to the premium version of WooCommerce Conditional Product Fees for Checkout Plugin.
How to Manage Extra Fees on Your WooCommerce Store?
It's very simple. Those, in rush, can watch this video to understand how this plugin works and how to charge additional fees through it.
Otherwise, read and follow our quick guide to understand the method –
Once you have downloaded the plugin, open the plugin dashboard and click on 'Add product fee'. This form should open up: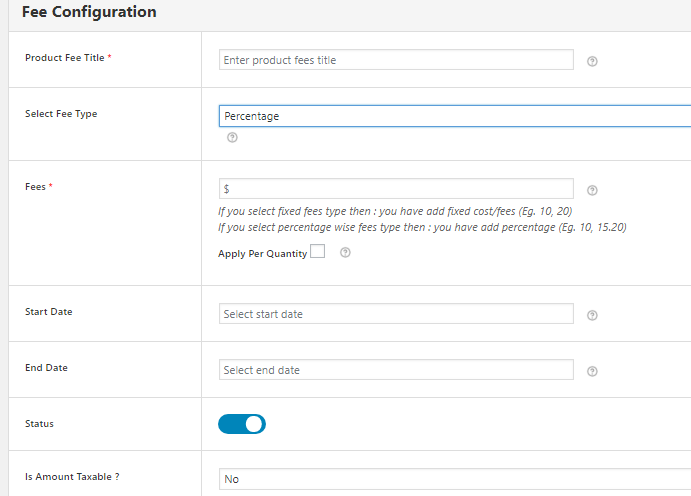 See how to fill this form, sequentially:
Give this product fee method an easy-to-remember name so that you don't forget what the method is for.
Select the type of fees you want to charge from your customers. If you want to charge a fixed amount of fee, select the option 'fixed'. Otherwise, if you are willing to charge a certain percentage of current cost, go with 'percentage'.
Fill the additional fee, which you want to charge for this method.
If you are running an offer through this method and it will be ending in a few days, fill the start date and end date fields. If not, you can leave these fields empty.
When you don't want to apply this method to your store anymore, you can just disable this method by toggling this button.
Now, scroll down to the 'Conditional Fee Rule' section of the same page and you will find the space to add rules.

Here, you can add rules related to the following parameters: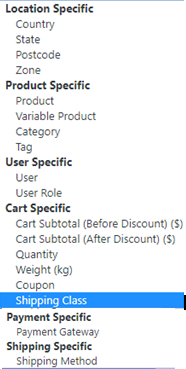 Not just simple rules, but combinational rules (which are dependent on more than one parameter) can be created through this plugin. For this, click on 'Add Row' button.
You will see two rows for the rules now:

Select the parameters and values as per your needs and save settings.
Here's an example:
Let us consider that you want to charge $10 for all the products being shipped to Australia. In this case, Select 'country' from the dropdown list and fill 'Australia' in front of 'equal to' operator in the conditional fee rule form. In this main form, you will have to choose fee type as 'fixed' and fee as $10. Fill the rest values as explained above and save details. That's it!
Before you buy or install the plugin, you can watch the live demo of the plugin and check if it's working the way you want. For queries, drop comments here. We will try to help you as soon as you can. You can email your problem to DotStore too.