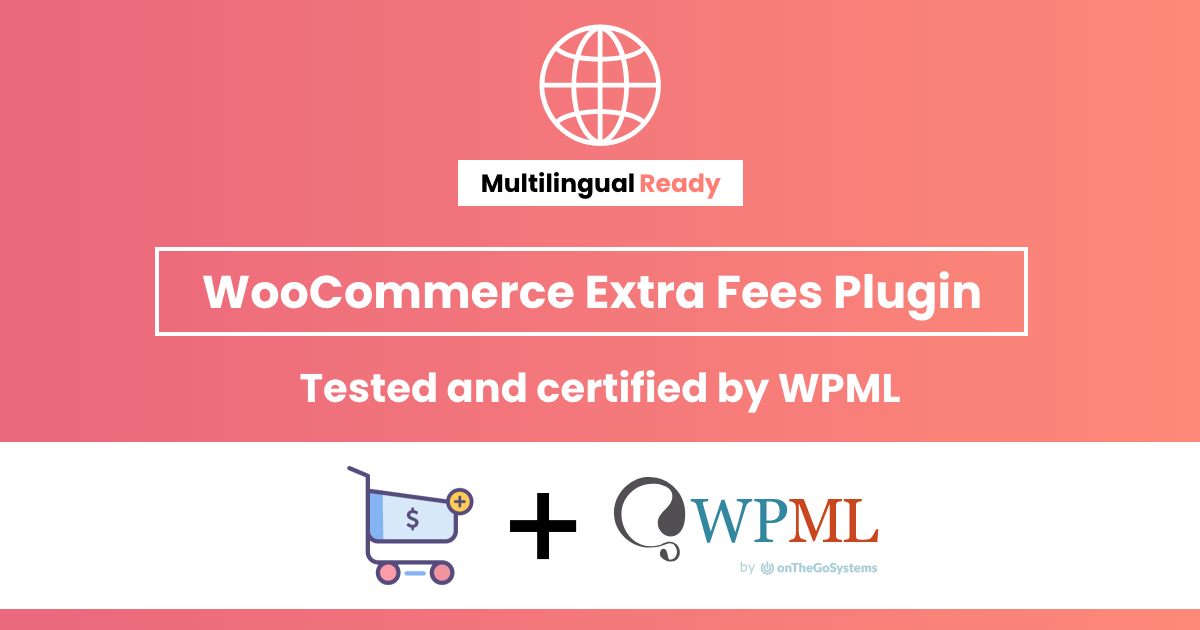 Announcing the WPML Compatibility for WooCommerce Extra Fees Plugin
After working on the latest updates for our WooCommerce Extra Fees Plugin, we are happy to state that it is now 100% WPML compatible. The WPML Plugin is the go-to solution if you want to make your site multi-lingual.
Used by over 10,00,000+ sites globally, WPML allows you to translate your store in more than 45+ languages. This means you can add variants for local languages like Canadian French or Mexican Spanish too. The benefit? You get to reach your audience across multiple demographics and geographies.
The integration with WPML adds automatically to Multilingual content setup admin page all custom fields used by the plugin as "copy from original to translation". This implies you don't have to worry about manually running the plugin in a multilingual site build with WPML.
Most importantly, the WPML Team has tested and passed out plugin as being 100% translation-ready
Benefits of WPML Compatibility with WooCommerce Extra Fees Plugin
As a store owner, if you want to expand beyond your present geographical boundary, you need to connect with people. And, what better way than talking to them in their native language.
WPML compatibility ensures that you translate content on your WooCommerce Store and display the conditional fees, discounts etc. in specific languages of your choice.
This essentially means you get complete freedom in selecting languages and creating translations and ultimately improving conversions.
WPML Compatibility also offers default WooCommerce Multilingual capability. What does this imply for you? Well, you can sell products in multiple currencies, irrespective of your store's language. At the front-end, visitors can switch between currencies just like they can switch languages. This is particularly helpful when you have to get certain products in specific languages to be ordered in a specific currency.
Reasons for choosing WPML Plugin for multilingual compatibility
Right from support for over 45+ languages to its ease of use, WPML Plugin is a perfect choice if you want a multilingual WooCommerce Store today. Here's why we selected this plugin –
Its intuitive interface lets you manage translations like a breeze. All it takes is a few minutes to make your store compatible with local languages.
Since 2007, WPML plugin has been used in 10,00,000+ sites globally. That makes it a reliable solution for ensuring your multilingual presence.
Seamlessly integrates with both WordPress & WooCommerce.
Perhaps its biggest benefit lies in multilingual SEO. What this essentially means is that you can easily search engine optimize content for local languages to ensure higher rankings. Besides, being compatible with popular SEO plugins like Yoast SEO, WPML also offers a set of features to optimize home page, internal pages, and even product categories.
You can save time because the plugin automates tasks like translating URLs, establishing multilingual database structure for websites etc. Since all pages are stored in the same database in the same WP installation as against multiple installs, you save a lot of headaches for your time as well. Manage all your content/translations from one place.
What does the WPML Compatibility Update for our plugin mean for you as a WooCommerce Store Owner?
Create a localized purchase process
With the WooCommerce Extra Fees Plugin, you can easily set up custom fees depending on specific users, geographies, cart, products etc. With WPML Compatibility, you can go a step further by customizing the entire process of displaying conditional fees to your visitors in their native language. Let's say a user from Spain comes and buy items and you are levying conditional fees of $50 based on the location, all this is displayed to the user in Spanish.  The entire buying process is customized thereby directly impacting your conversions.
Connect with new audiences, globally
With multi-lingual e-commerce capabilities on your site, you can create online stores for different geographies in different languages without going through the hassle of setting up multiple WP installations. Reaching out to the new audience with a few clicks is definitely worth giving a try!
Save time on translation
Setting up a multilingual store is one thing and managing multiple stores is another. With the powerful interface, you can set up and manage languages of your choice, thus, saving you time & money.
How to translate extra fee label in multiple languages with WPML
To translate the label of the extra fee you have created: Go to WPML -> String Translation screen and search for the label which you have entered in your base language while creating the extra fee. It will show the screen like below, where you can enter translation in each language which you have configured for your store.
We can open the WPML advanced translation editor by clicking on the edit or add icon. you can check it below screenshot: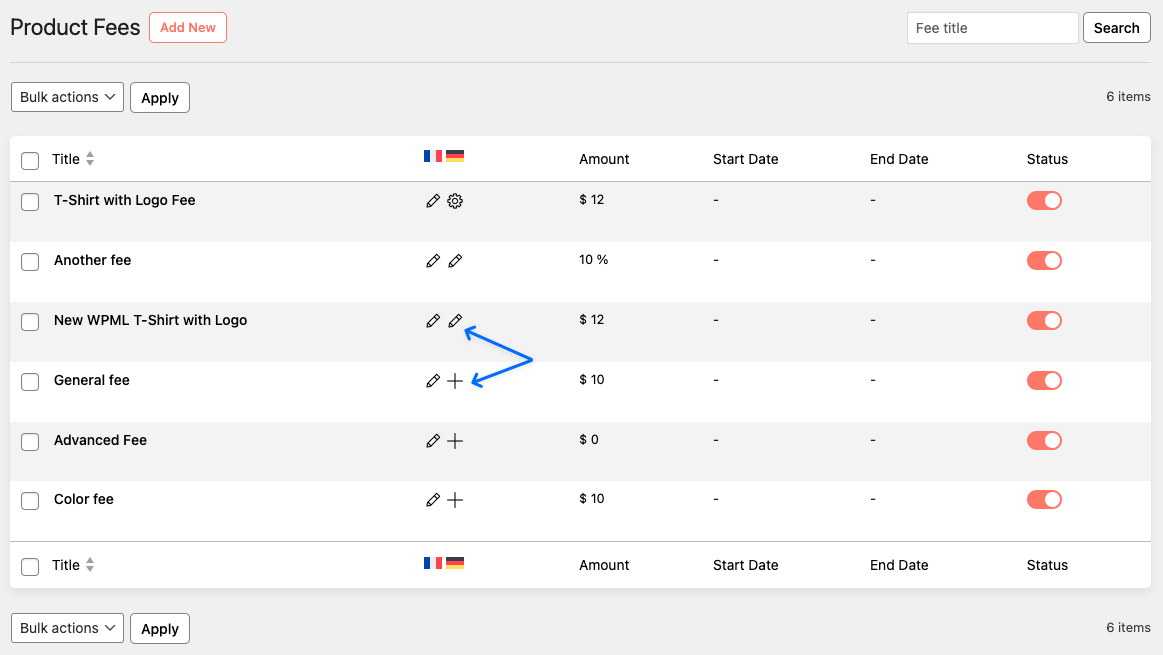 After clicking on the add or edit icon, you can add or change the fee labels and content.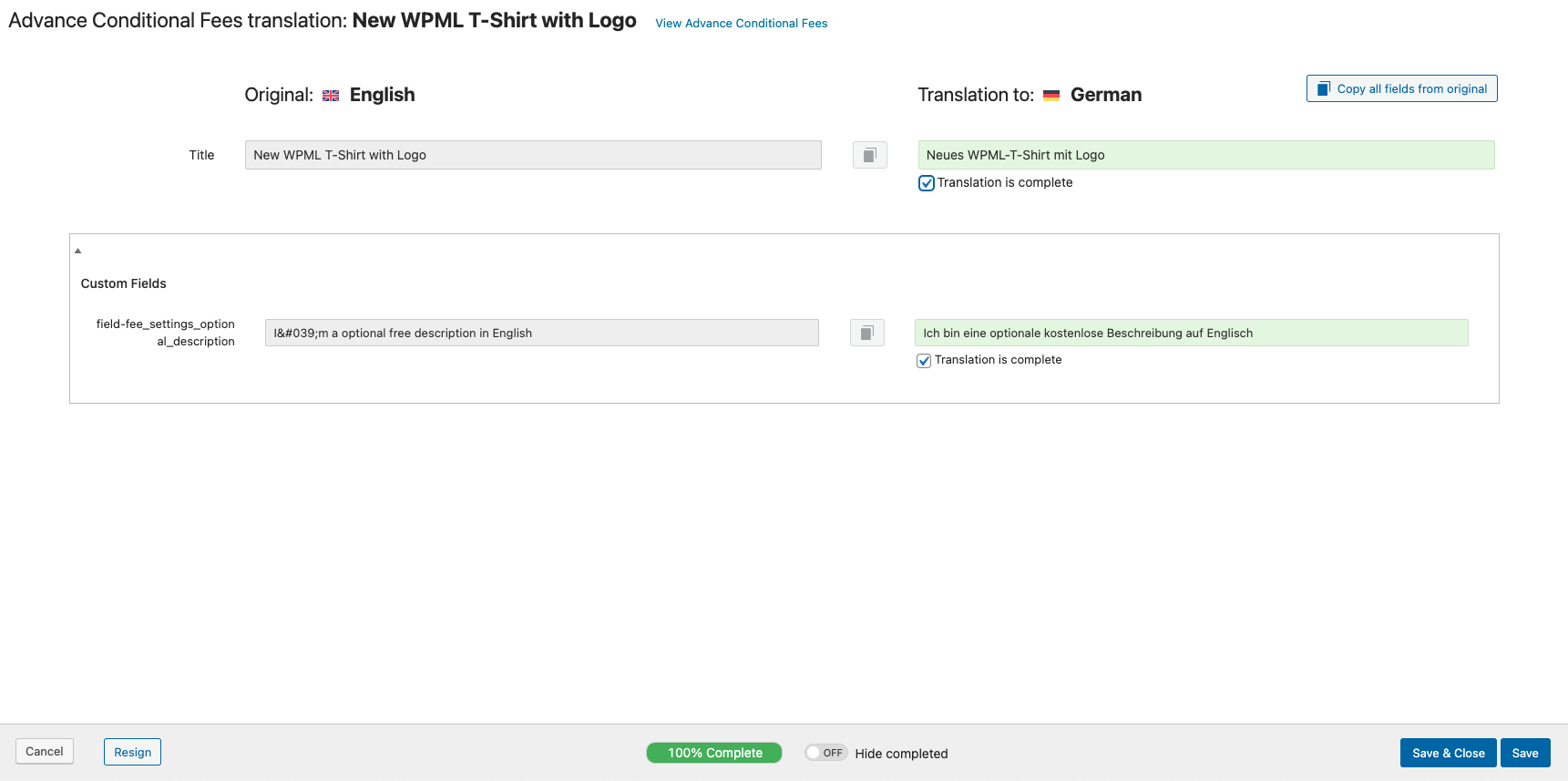 Also, Automatic translation for strings is a feature in WPML that allows you to automatically translate text strings, phrases, and labels used throughout your website. This includes not only your core content but also elements generated by plugins and themes, such as those from the Extra Fee plugin. Rather than manually translating each string, WPML can take care of this.