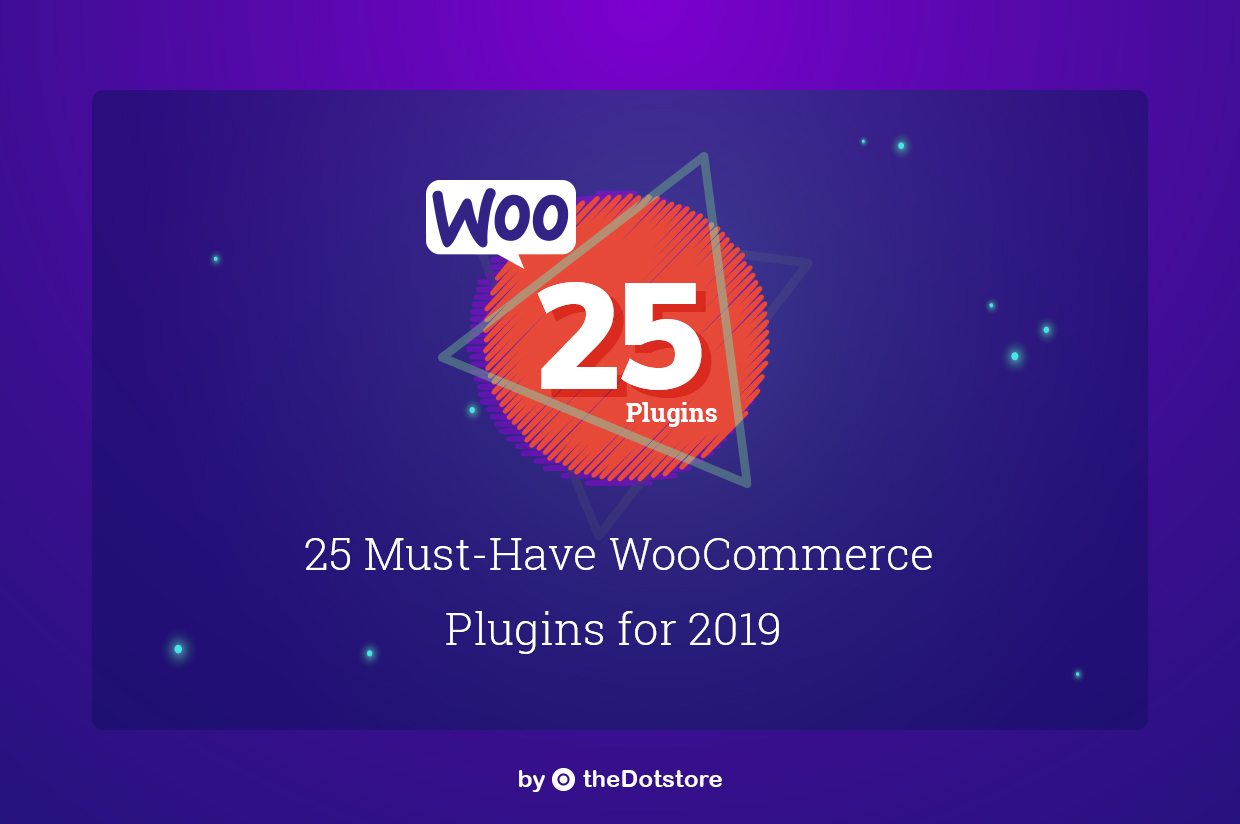 25 Must-Have WooCommerce Plugins for 2019
You have been selling products offline for years with a limited target segment. What if someone suggests you sell all your products online by creating a store on eCommerce platform like WooCommerce? What will be your first thought? Certainly, you would want something that would make your work easier and faster. You would expect minimum efforts and maximum revenue generation. On the other side, you also want all your daily activities to be running smoothly as it is but here the difference will be all the operations will be carried online.
One noticeable point about WooCommerce here is, you can add a product quickly with the title, description, price, category, etc. But all this alone WooCommerce platform cannot do. So, to add necessary functionalities to your store there are lot many WooCommerce plugins available on different websites like WordPress.org, WooCommerce Official Website, Yith Themes, Code Canyon, etc. These platforms provide WooCommerce plugins for different industries. There are a lot of plugins that are important for every WooCommerce websites no matter to what industry it may belong.
Here, specifically, we are going to discuss the top 25 WooCommerce plugins that are must for you when creating a new store in 2019. These plugins have different functionalities, uses, and outcomes. We have identified plugins with respect to people who have recently started an eCommerce store or about to start their own online store:-
We have seen on many eCommerce stores where you can find thousands of products listed for each category. When you want to pick a product it is very time-consuming, confusing and even painstaking task. Every product has its importance and preferences so a buyer can select only 1 product out of thousands of products listed. To simplify this "WooCommerce Product Filter" helps a buyer to shop with ease and even a seller can identify which are sold the most.
This plugin provides features like Gutenberg support, engaging layouts, interesting filter options with preview option replacing those boring filter options and many other options. This plugin is in huge demand and has been used by almost every eCommerce stores to get the best output.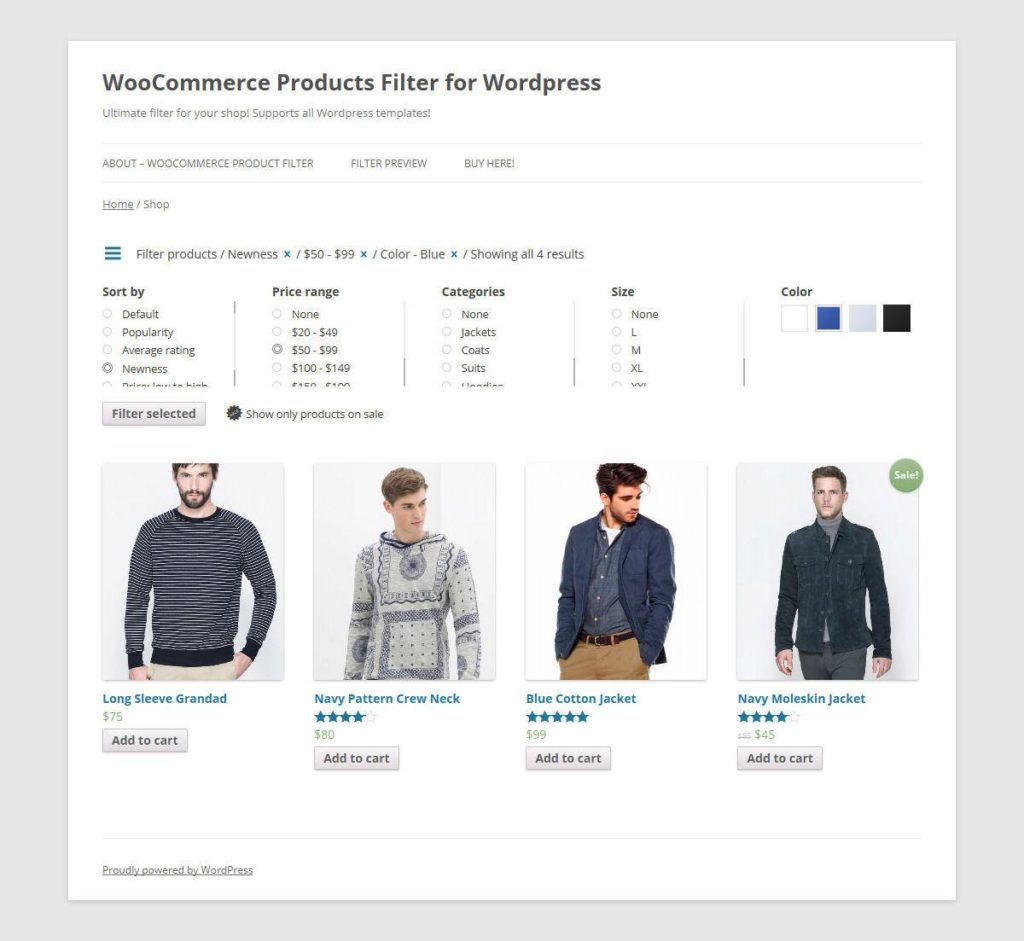 It is very important for every eCommerce store to have a well-calculated shipping method. Here, you can set shipping charges for any order with the help of all the options available. If you want to set multiple methods of shipping charges for a cart it is definitely possible for to that using this plugin.
The best part of this plugin is where you can manage multiple shipping methods under one dashboard. This plugin is 100% compatible with lower and is completely compatible with WPML. The main feature where this plugin has attracted a lot of people is its capability to provide customization and support to add shipping methods to every product, category, size, quantity and various free shipping options wherever applicable.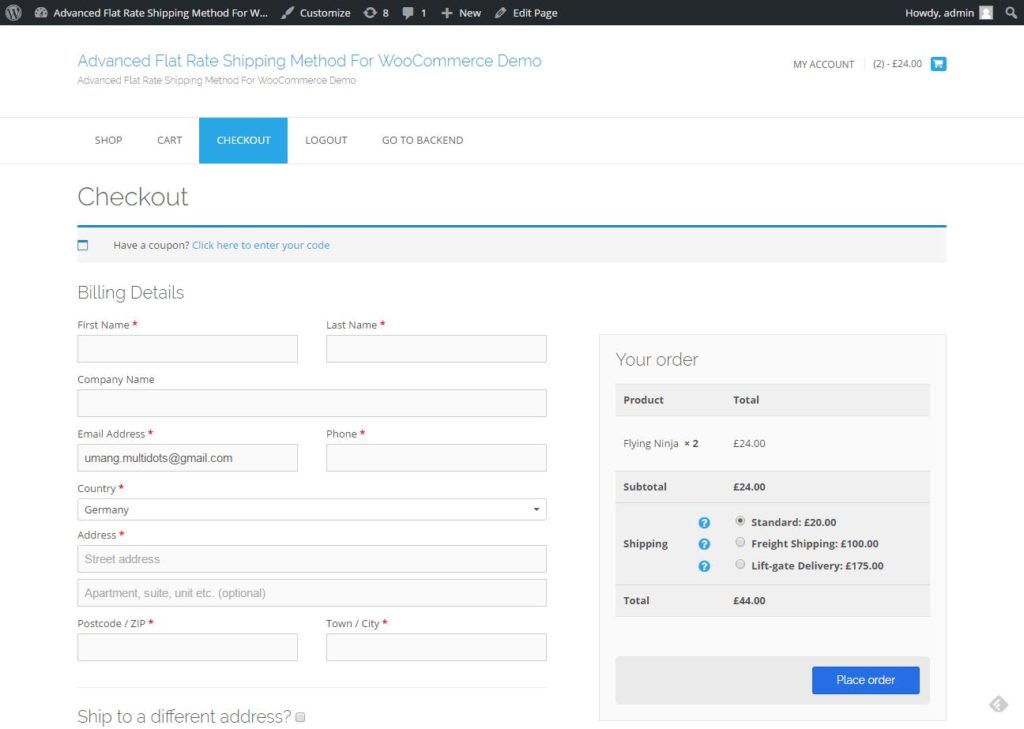 Being a PCI compliant plugin, it helps online businesses to receive payments online. Stripe payment gateway provides protection from fraudulent activities, technical support and most importantly requires banking infrastructure for online-payment related activities. Using this plugin you can generate bills, keep track of your daily payments or you want to raise a dispute. Everything else can be done using this plugin for financial purposes. How to Integrate Stripe Payment Gateway In WooCommerce?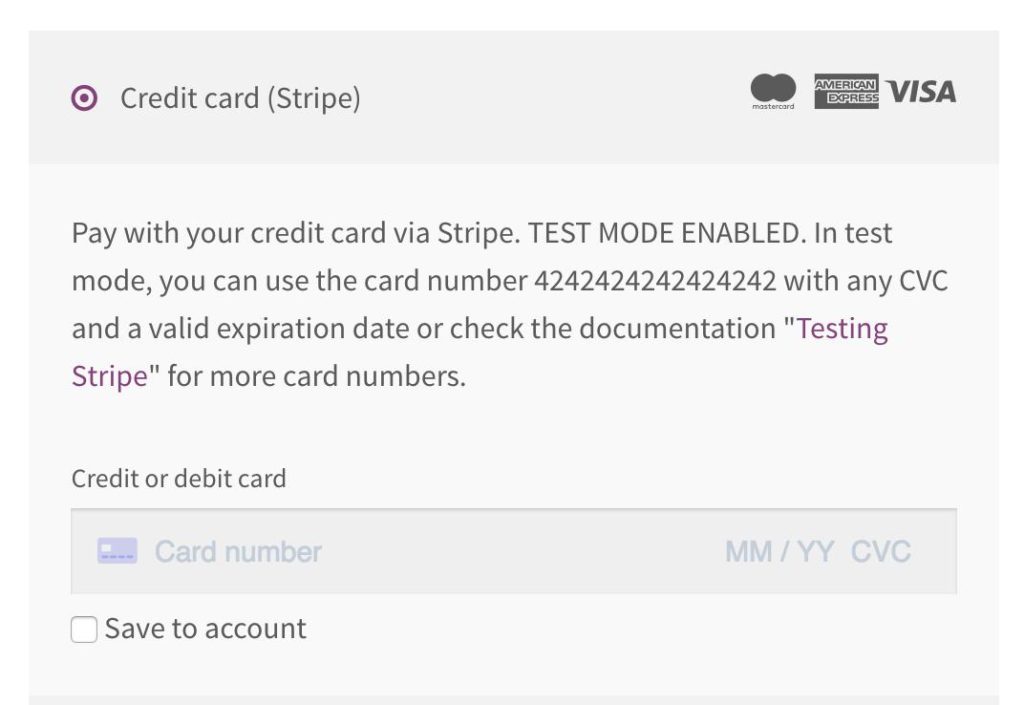 Today, scrolling has become the most common feature for all eCommerce store. We have also seen with social media platforms where we keep scrolling down and it keeps loading without moving to another page. In the same manner, when you have multiple products for each category displayed on the store, it is a painstaking task to scroll down and move to the next page. Instead, how it would be if you do not have to move to another page by clicking but just keep scrolling down and it automatically all products and scrolls down till the products are listed for a particular category? That's where YITH Infinite Scrolling comes into the action for Woocommerce stores. This plugin makes it easier for you to scroll down infinitely without clicking on the next page button. Isn't it cool?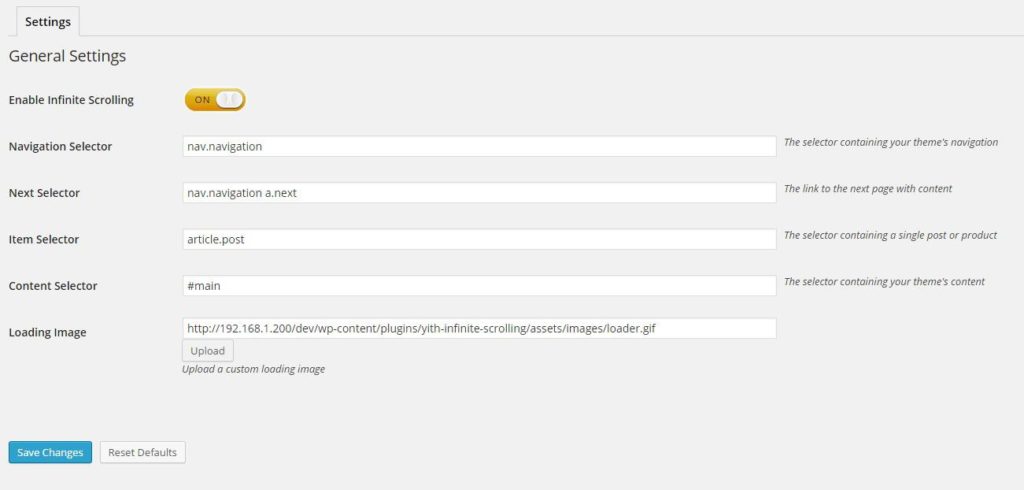 Using this interesting plugin, the key goal is to increase sales and revenue. How? If the process of checkout is simplified and fast people would definitely love to come again and shop in fact become loyal customers for a longer duration. This plugin also provides features like changing the text of the "Add to cart", enable/ disable direct checkout option, for a particular product page add "Continue Shopping" option or maybe want to update "Redirect to page" option sometimes. You have got all the freedom here to these in order to generate maximum sales.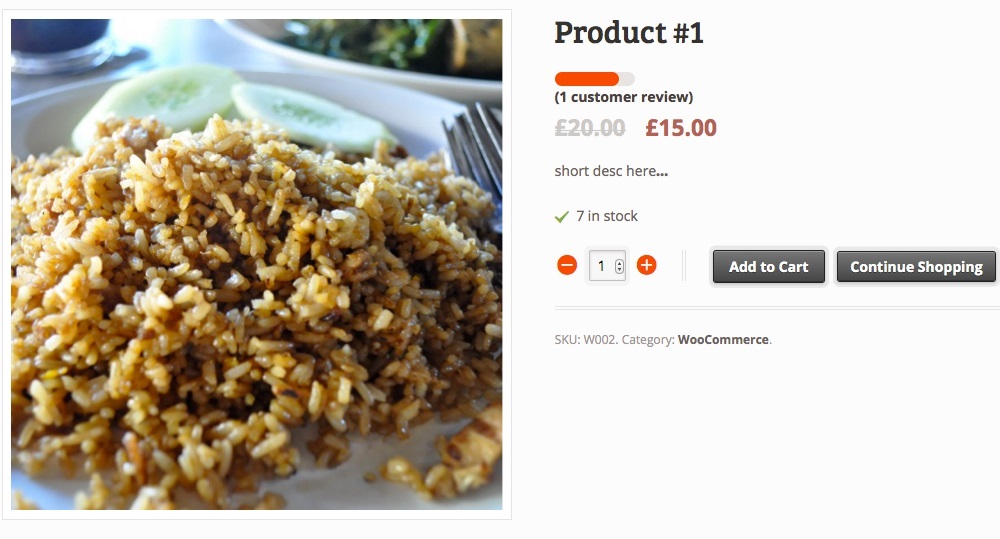 Many times we have seen that all product price displayed might be in other currency and we really want to get the exact price details in our preferred currency or our living country currency. So, here WooCommerce provides that flexibility to switch between currencies with the updated currency exchange value for a product. This helps you to increase your store's outreach in other countries also where you want to target customers.
The prime factor to improve the sales or product listing is to understand user behavior. How is it possible? When you install this plugin, it gives you the option to track each and every user behavior that's from visiting the store to thank you page. Universal Analytics supported Enhanced Ecommerce plugin helps to generate user behavior reports on the basis of product, sales, shopping and checkout helping you to improve the performance in these areas.
It also tracks product impressions, recent product viewed, searched, purchased, add to cart activities and also Home page activities. You can also set local currency or add functionalities like guest checkout for higher engagement.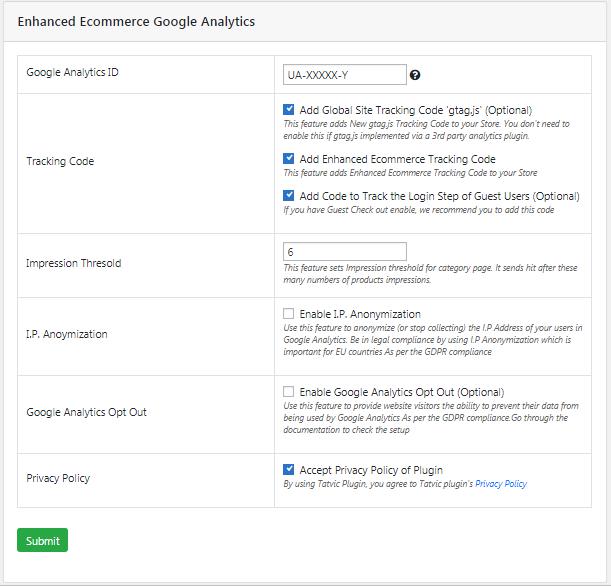 While doing business, one important aspect is the invoice of products. Now, the invoice may be for services we take or for a particular product. Invoice has a very important role to play for customers as well for sellers. It is a type of record for future references as well as if a product comes under warranty then invoice can be crucial for it.
Keeping that in mind we have a plugin called "WooCommerce PDF Invoices" which helps you to generate PDF format invoices, slips and even you can attach emails where it can be sent to customer's Google Drive, DropBox, etc. The best part of this plugin is you can choose different styles and templates which are customizable anytime. Apart from these features you manually delete or update an invoice or even attach PDF invoice to multiple WooCommerce emails for quick processes.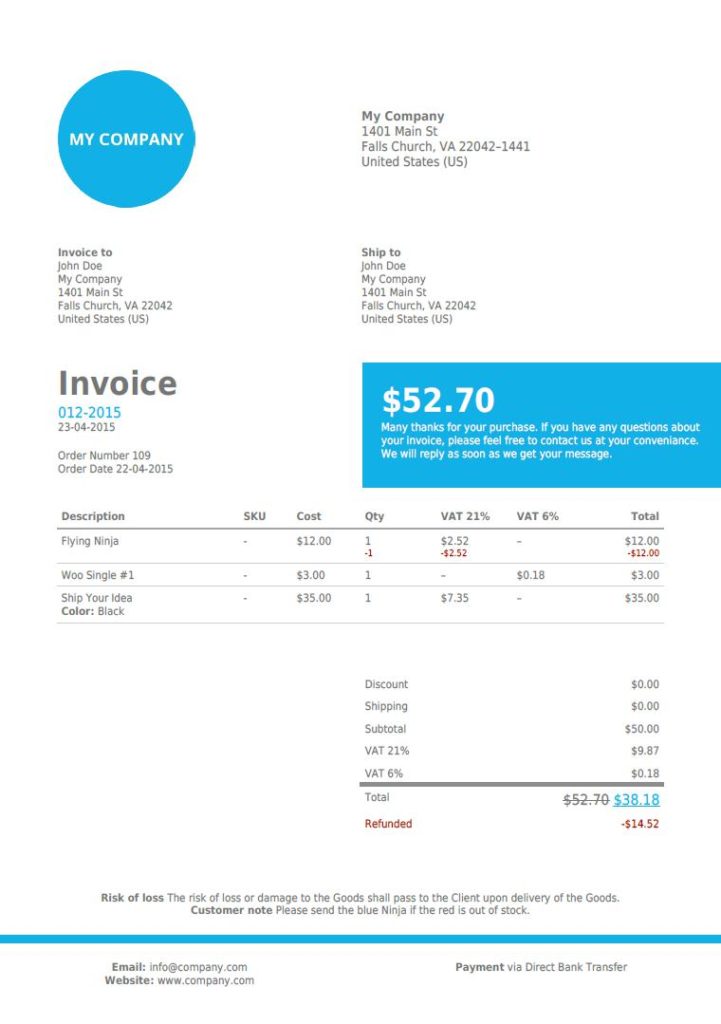 While customers are shopping, the checkout page is one of the most crucial pages where each and every detail need to be described. Here, total products, total payment to be made, shipping charges, all tax deductions, estimated time of delivery, product quantity and many other details are mentioned. So, using this plugin what you can do is rename fields, reorder products as per product name or even field name, manage products, add/remove fields for checkout page, and upload files on the checkout page.
Some of the functionalities come handy like enable/ disable "custom fields" on the product summary or invoice. This plugin even helps to display payment methods, set taxes, and add extra amounts for products (if applicable).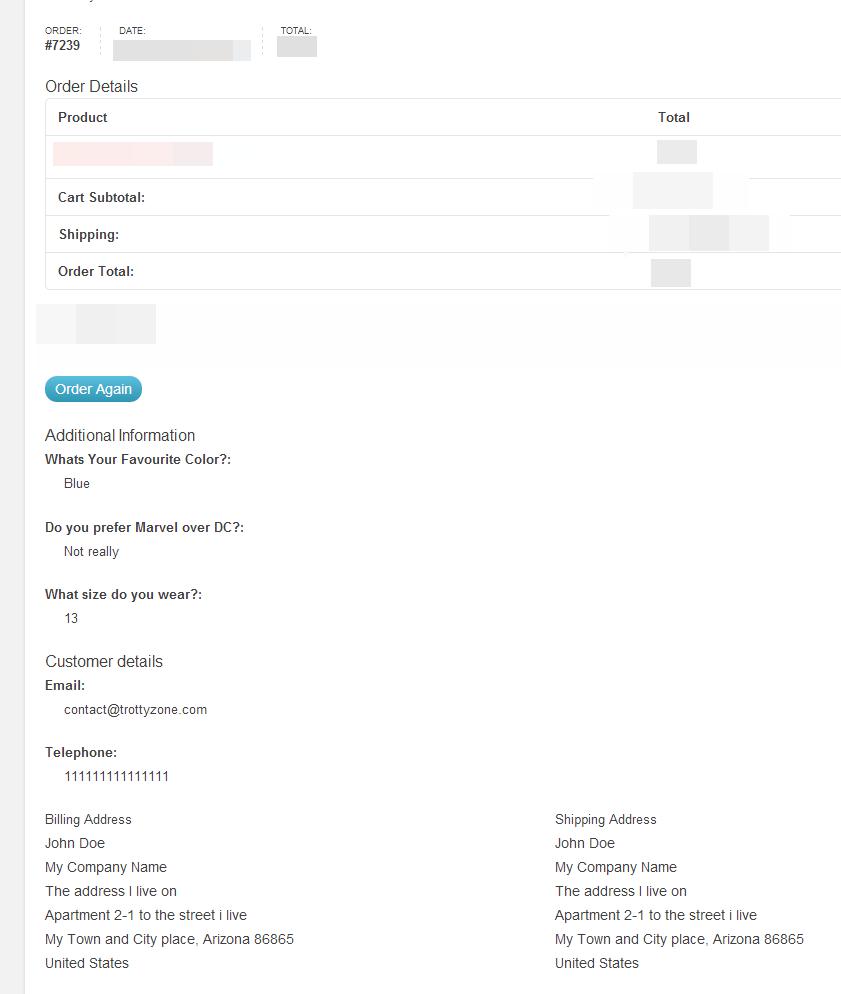 For any occasion, whether is the birthday of your friend, brother, sister, marriage anniversary or other gift cards works like wonders? Recent studies have stated that gift card encourages customers to do shopping 2x times than usual. This really boosts your sales and every customer gets a personalized feeling which increases engagement. With the help of WooCommerce Gift Card plugin, you can set price variations like price range, user price, default price, and selected price. Here, you can also set multiple gift cards keeping in mind festivals or specific occasions.
This plugin also helps to set expiry date for that gift card, assign push mail notifications, schedule gift cards, download gift cards, exclude selected products, set price accordingly and many other activities you can do with this plugin.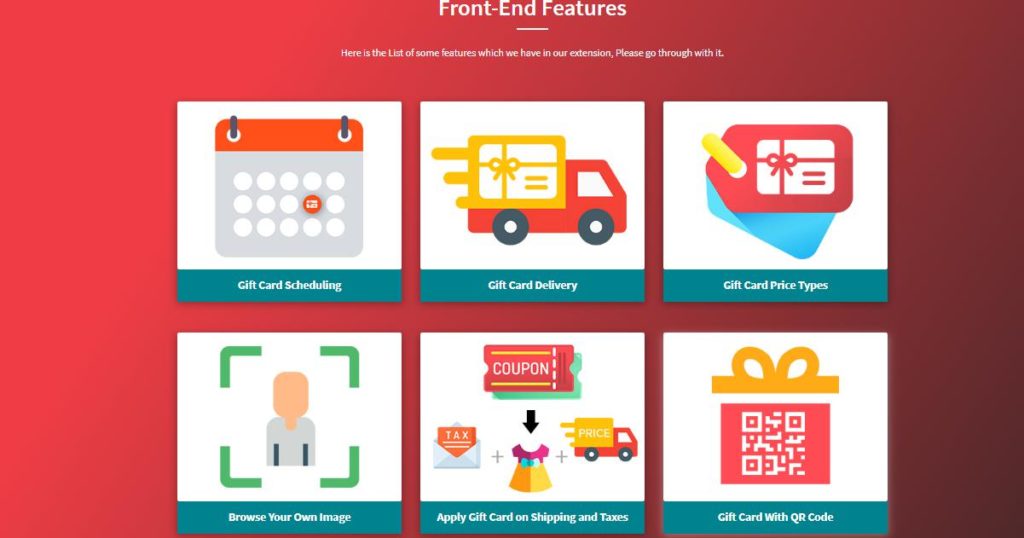 If you want to send an email to the customer this plugin will help you customize the template of an email from color, style, texture, the background to the text style, footer links, social media links, etc. Email Customizer for WooCommerce plugin helps to get a preview of final design of an email before finally sending it to the customer.
On a serious note, this plugin reduces the time to manually code and design an email template or become a developer to design an email instead it saves lots of time with smart management and design. It boosts up communications thereby increasing sales and revenue with more number of loyal customers.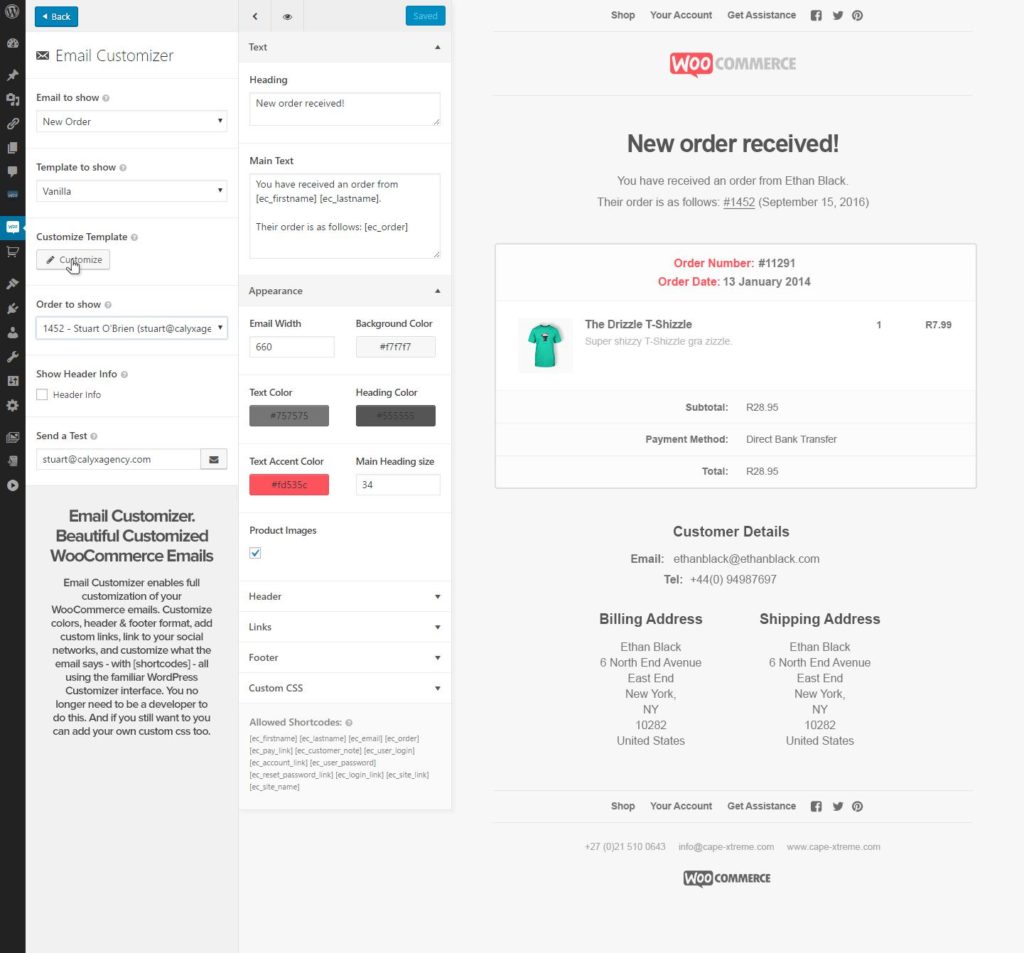 If you are looking to develop an auction website or want to get into auction business then this plugin is for you. This plugin is simple but very effective in order to manage all your auction activities. Starting from creating a list of bids, displaying auction products to managing bids, delete manually each bid, auction history, set price, verify payment methods, widgets, etc.
You can categorize each bid as per time, a number of views, the performance of each bid, future bids per product, auction status like available, live, offline, not in stock and many other functionalities for your smooth auction business activities. This plugin has the capability to quickly start your auction activities after you have developed your website say at least as 30 minutes. Isn't it fast and interesting to manage so quickly as well smoothly?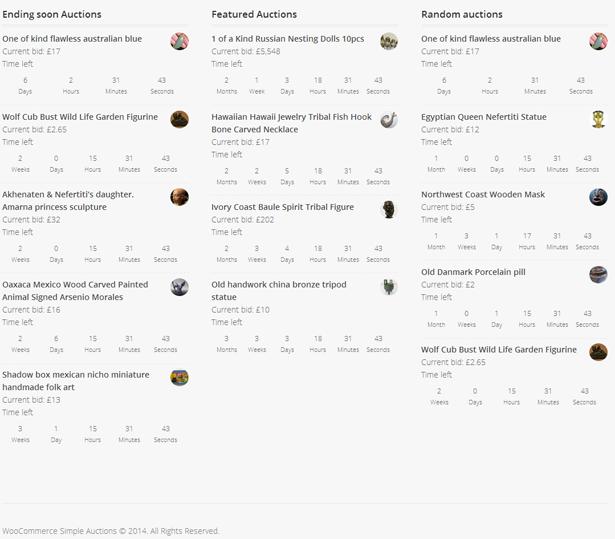 One of the most attractive elements of selling a product is discount. If you can implement well discount theory for your products, you will see a huge increase in revenue and even customers. But the question arises how you can manage them with this plugin?
Well, the answer is simple and to the point. When you install this plugin you can set up discounts or sales badge in a few minutes after installation.
Let's understand through an example: – If you want to sell a wristwatch but in discounted rate what you can do is using this plugin add discount rate in percentage and you can also add a timer say for 12 hours. In 12 hours if a visitor purchase a watch they get a flat discount of 20% after the timer is over product will be available but again at a normal rate.
This way people would prefer to buy quickly because they are getting at a discounted rate and the product is still available. When you add a discount or sale badge with any product automatically you will observe a rise in its buying ratio.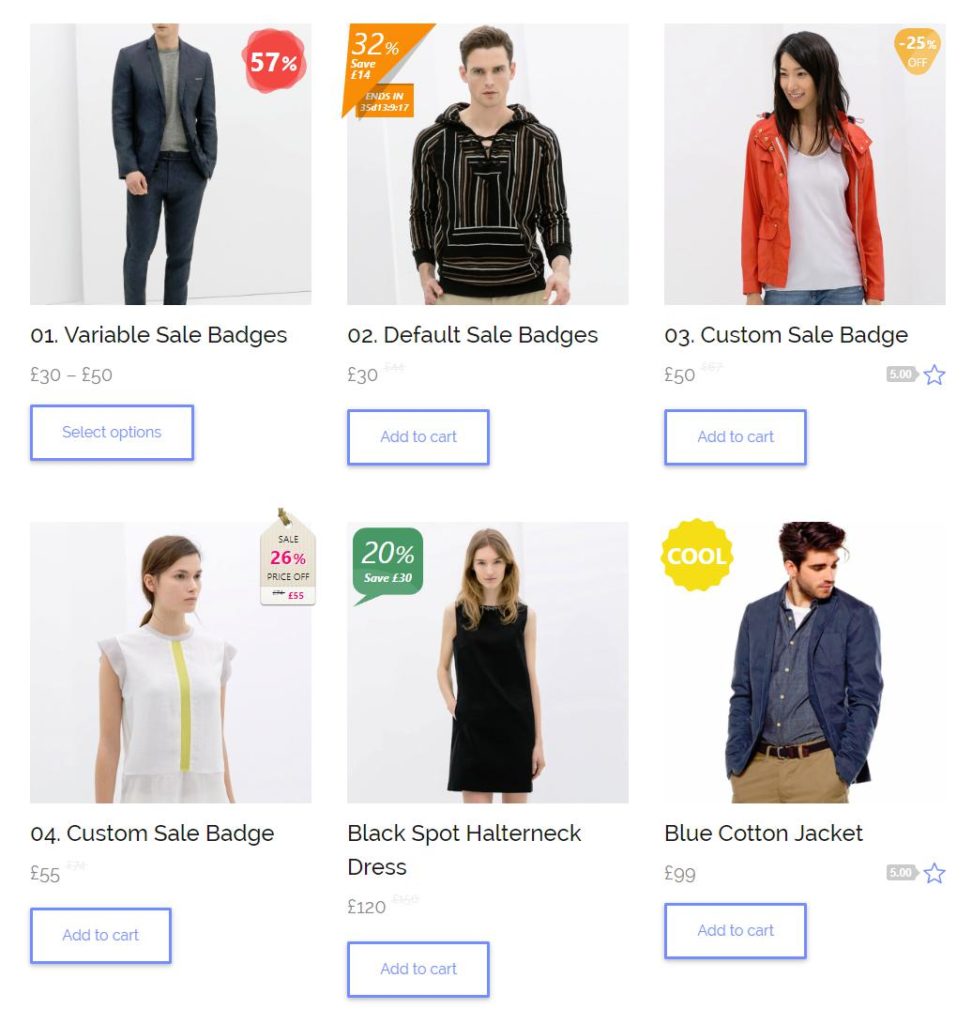 Let us understand the working of this beautiful plugin with an example. You open an online store of customized products like mug, frames, t-shirts, caps, etc. and you want to sell it. But, how will you come to know the preferences of each customer and the other side you want to give them a personalized experience. So, how is it possible for that?
Well, using WooCommerce Custom Product Designer you can add a custom product designer tool wherein every customer can select a product and using the tools available like color, template, quantity, design, text or layers they can design it. They can even upload a file of a logo or a photo to be printed on a t-shirt, you can set a price accordingly, add social media sharing buttons, language preferences, size preference, the shape of design and many other elements you can add for customers. This will engage them more with your store and will give them a personalized experience. Try it out!!!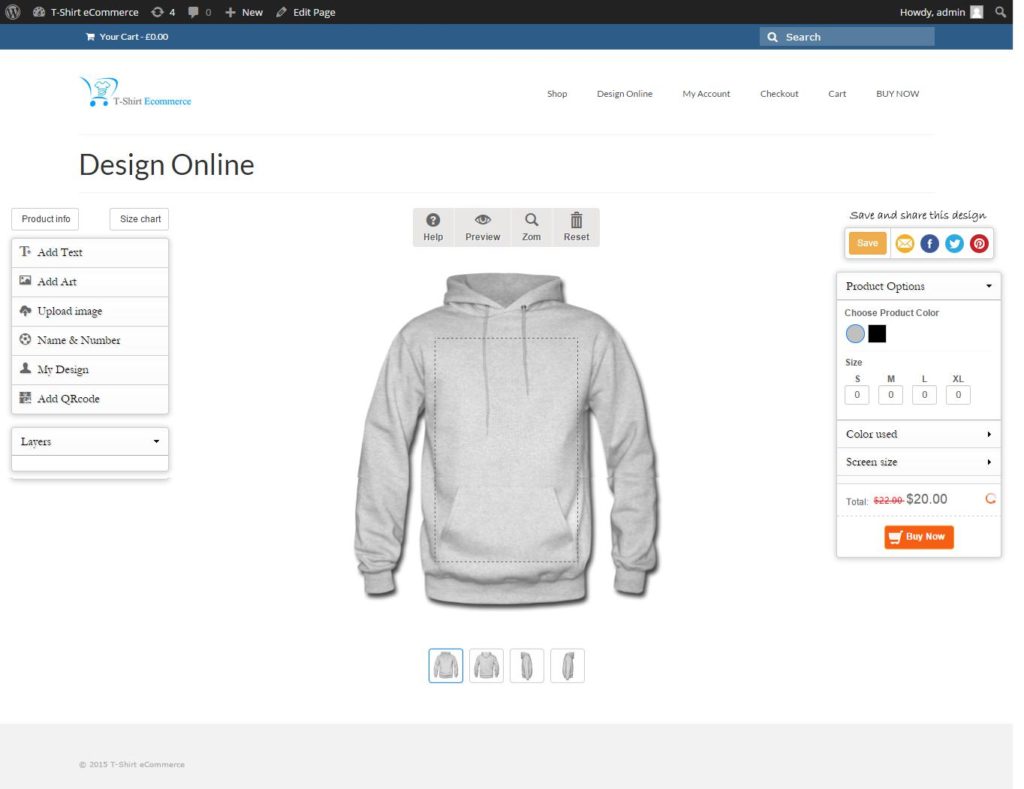 It is important for the buyer to get all info about their product shipment status. In order to keep up to date in a graphical & interactive manner, this plugin provides order status for each product which is displayed process by process.
Here, you can display the estimated date of delivery, time of delivery, a complete cycle of the order, you also get to use different templates which are colorful and interactive to replace the old-fashioned way of displaying order status.
There are some more important features like you can send an email notification to the customer about a product order status, can create multiple custom order status, order tracking using 3rd party integration system. This will replace manual enquiring through calls about each order by a customer. When you show up order status you are building up a trust for yourself in the eyes of a customer.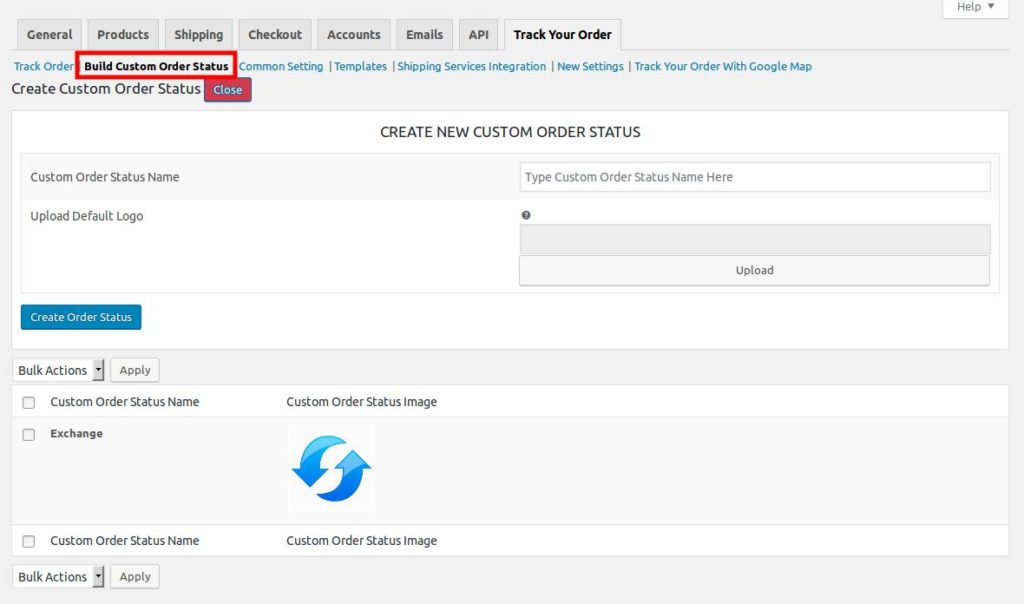 Many times we hear from an online store owner that the customers are not retained for a longer duration, what could be the key reason behind it? If your checkout page is too complicated, it is for sure that customers would really not prefer buying it once again. On the other side, if you have a smooth and quick checkout process, then it is practically found that customer retention is increased 3x times.
So, all it depends on the checkout page. It is always better to keep the multistep checkout process to increase engagement and helps in multiplying conversion ratio. It is also not advisable to have all the checkout options on a single page instead divide each section on the different page for better customer's shopping experience.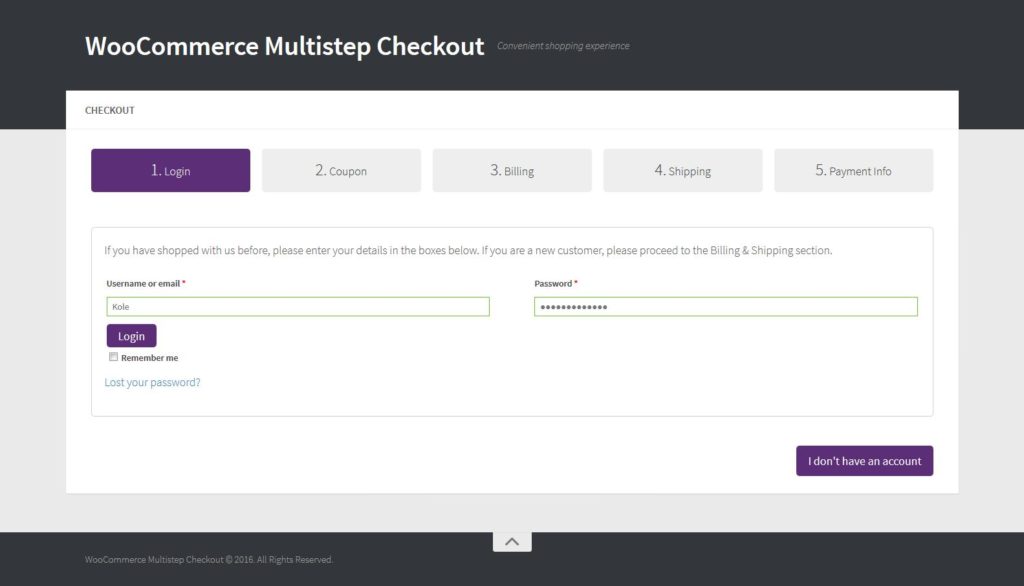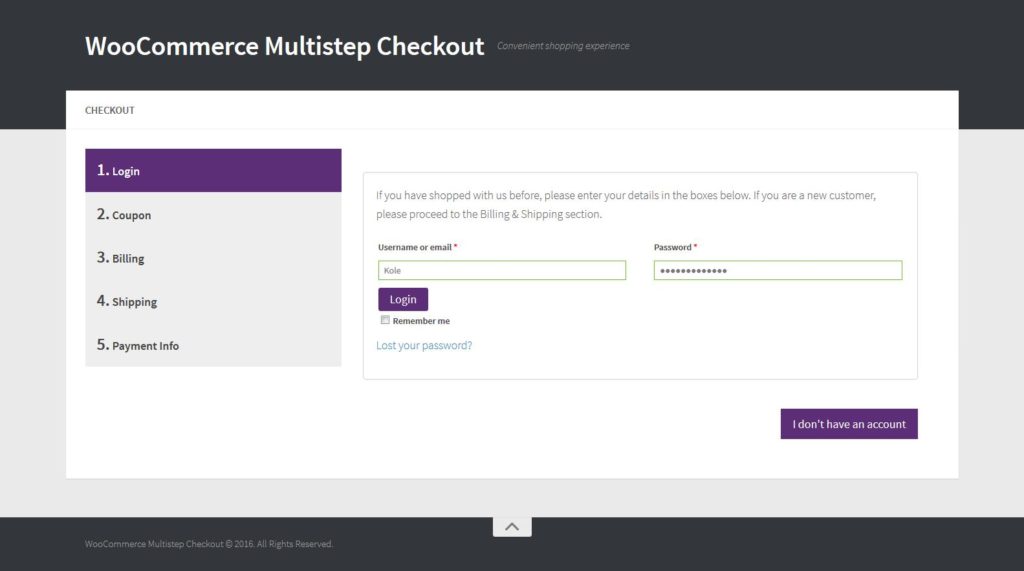 Report generation is a very important factor for every business in order to keep a sharp eye on sales, profit, revenue, customer retention ratio, daily visitors, etc. This WooCommerce plugin provides a complete solution to the reporting of your online store activities.
Interestingly, you can view reports as pie-charts, bar-charts, map view, data grid view or even normal statistical view. This plugin helps you to search for a specific product to view its report and you can even download it in .xls, .csv or .pdf format.
To better monitor every business activities you can bifurcate view as actual and the projected sales strategy which will help you to identify the loopholes, target audience, current selling capabilities for your company, you can take help of a powerful dashboard that helps to get the summarized view of all reports in a particular order.
This plugin helps you to generate invoices, send email notifications regularly, view daily/ weekly/ monthly/ yearly reports, category-wise order reports, product-wise order reports, most importantly country/ state-wise reports, tax/ refund history, customer report history, etc. This report includes bestselling product, product in stock, shipping details, order summary, tax and everything else.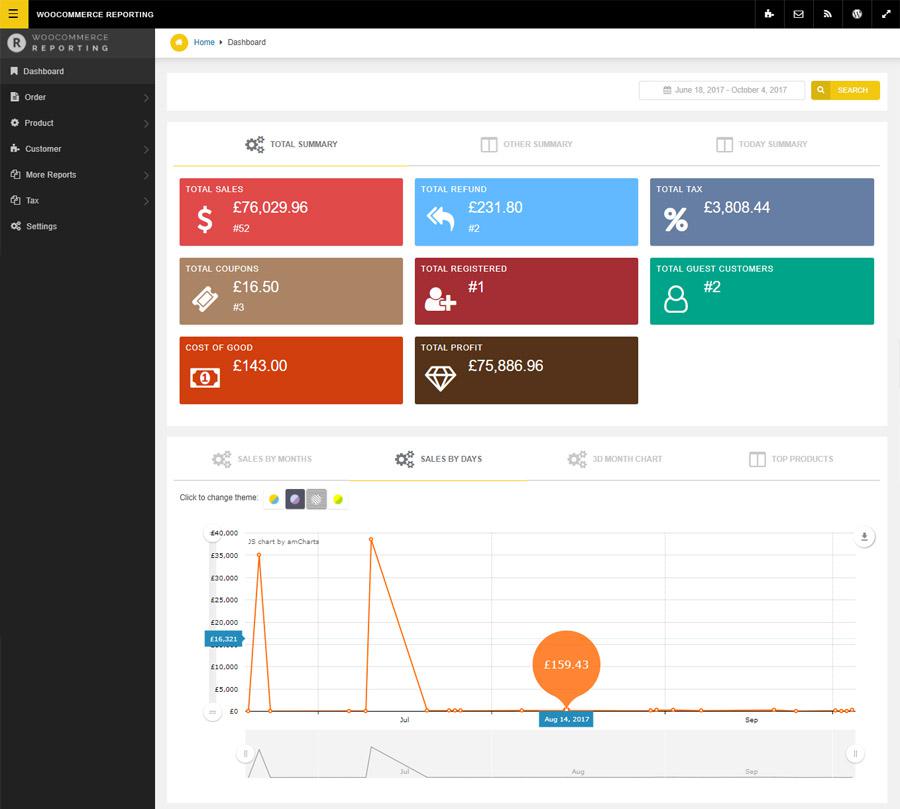 If you carefully look at this plugin, you will be astonished by its simple but powerful options to price products and apply discounts. Here, you can assign discounts, special offers, pricing rules for each product and all this with very simple steps.
Some of the key features of this plugin which will be very handy to you are:-
User role-based discounts
Cart subtotal based discounts
Bulk purchase discounts
Special offers (Festive season offers)
Category based discounts
Product Specific discounts
Country-based discounts
Let us understand the features of this plugin with an example:-
You introduce a 3-pack t-shirt of a particular brand with assorted colors. Now, you know very well that if you want to sell this product you need to carefully understand the target audience for this particular product. You can categorize this product into special offers wherein the actual price of the product is $120 but as a festive offer you are giving away in just $70. Here, you can apply discounts in multiple ways like category-wise discount or country-wise discount or cart subtotal discount whatever may be the discounted price your end-goal is to increase sales and generate maximum revenue.
This is how you can apply a discount in different forms in order to attract more customers and encourage them to buy more products from your online store.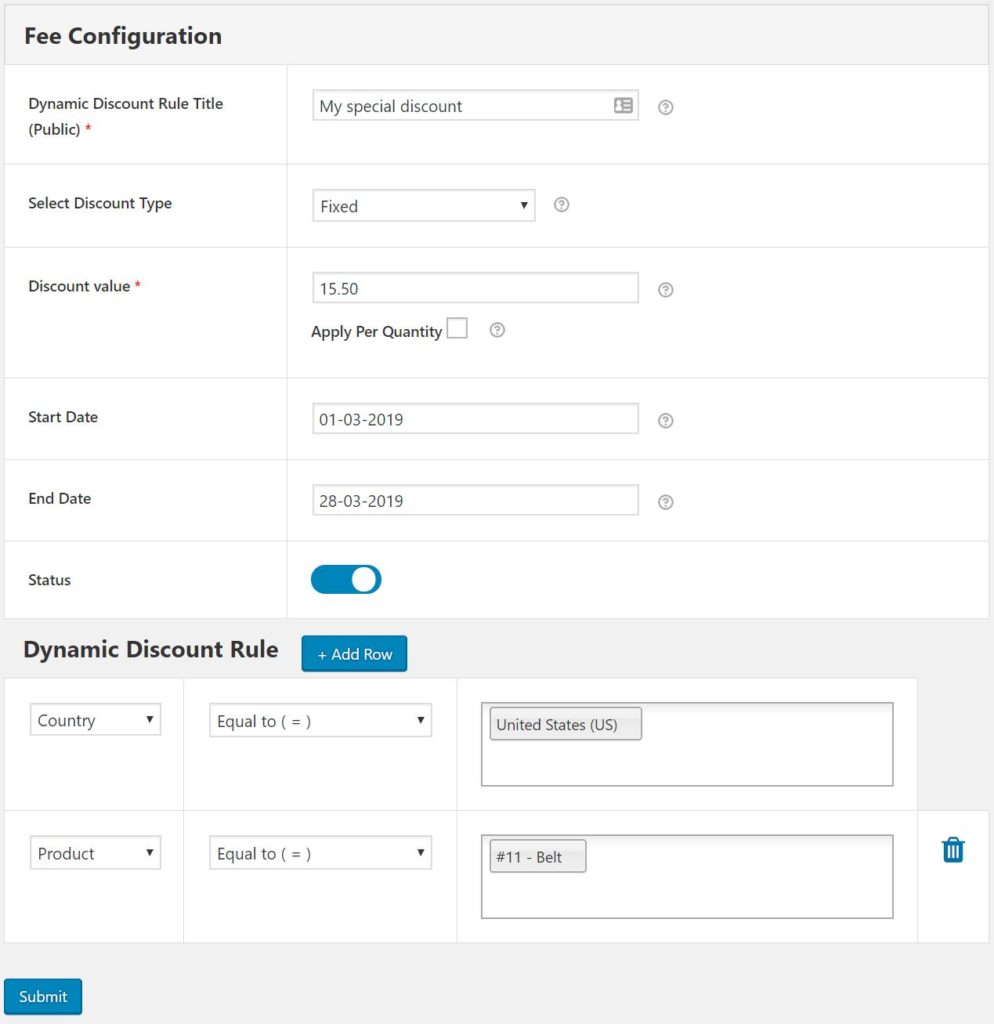 Prevent Fake Orders and Blacklist Fraud Customers – One such common issue every store owner faces is fake orders from specific unauthorized IP addresses or country. In that case, what can be the best optimistic way to stop such fraudulent activities? Well, you can use this plugin to block such fake users or even blacklist some of the identified IP addresses, zip code or country.
As an outcome you will be able to view fake user details, add custom message for blacklisted users, you can always block a user from ordering a product which will stop such unwanted entries into your log, during registration or checkout you can blacklist a user, view complete blacklist user list on a specific day and you can send a common message in bulk to all blacklisted users in order to notify them about such unrealistic activities from their side.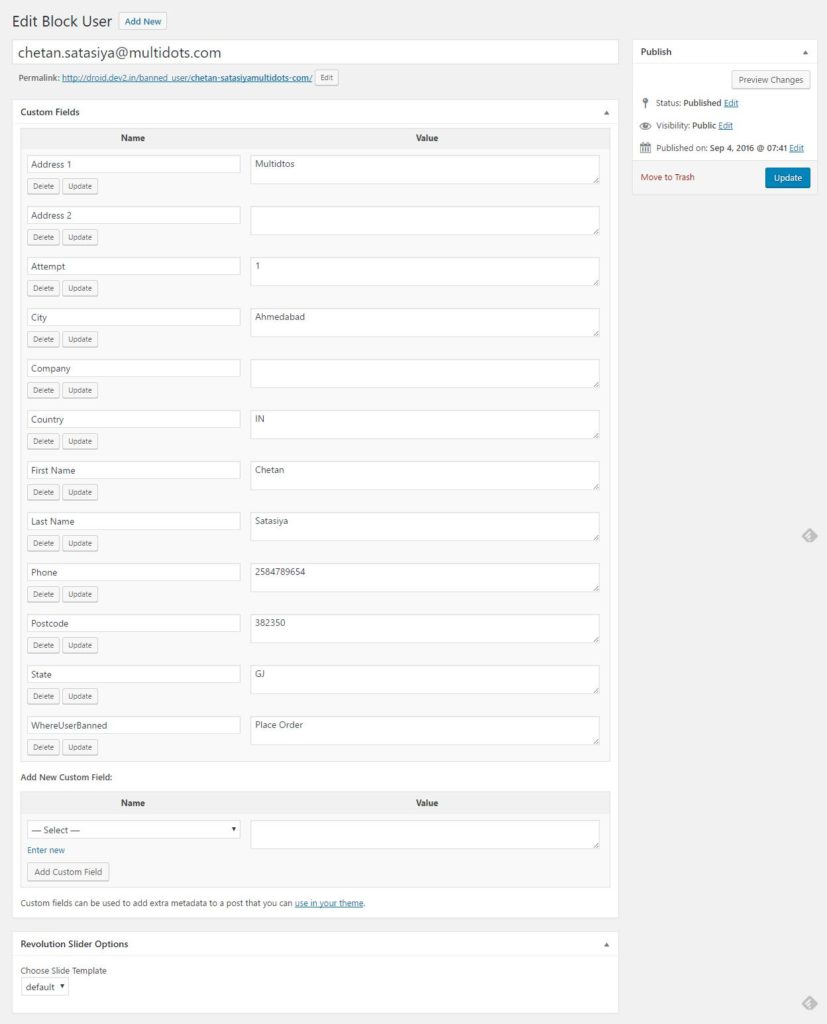 Marketing Automation to Boost Sales – This plugin is handy in increasing sales, average order value, conversion, checkout rate, you can say a complete marketing solution. You can actually avoid cart abandonment, if a visitor is looking at a product you can suggest them a similar product or you can display a number of views a particular product was searched or viewed. Significantly, this plugin supports all type of sales gamification, customer retention, discount rate strategy, checkout page engagement, and conversion of a visitor into a loyal customer through offers, discounts, identifying their search as well buying habits and what not.
If you really want to scale up consistently then you got to install this plugin today itself and start using all the mentioned features. They have many templates which are responsive to all devices and have an engaging look & feel the way you want to display products, prices, categories, offers, discounts.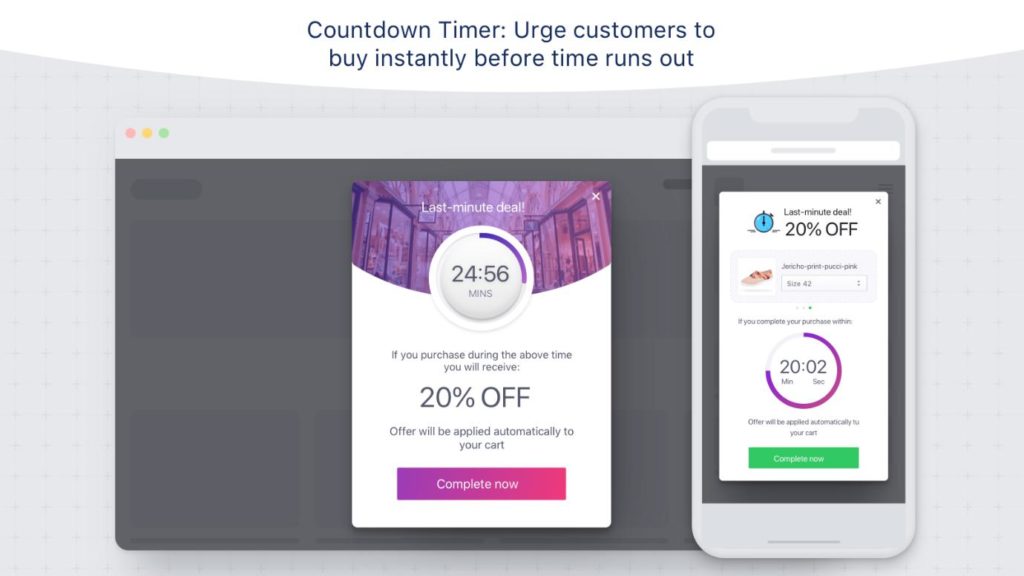 When a visitor comes to your store he/she scrolls for a product they are looking for. But what if they want to have a closer look at a particular product and you are not able to give them such an option? Do not worry about that when you have WooCommerce Product Zoom Slider. For example, there is a flower vase and a visitor wants to have a detailed look of its design you can install this plugin in order to give out option for zooming in the product and viewing it. This way a visitor can take quick decisions and will improve your sales.
You have got two options with this plugin one is you click on a product and zoom on a product or you can hover a product to get a closer look of a product. You also get to change settings of the product slider to get a better zoom. You can set values accordingly and choose whether you want to display it vertically or horizontally.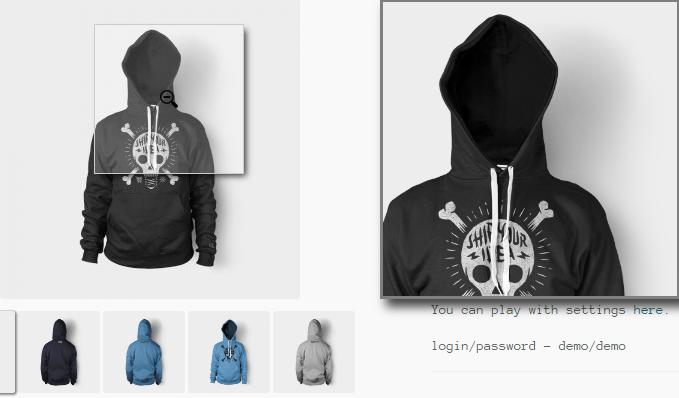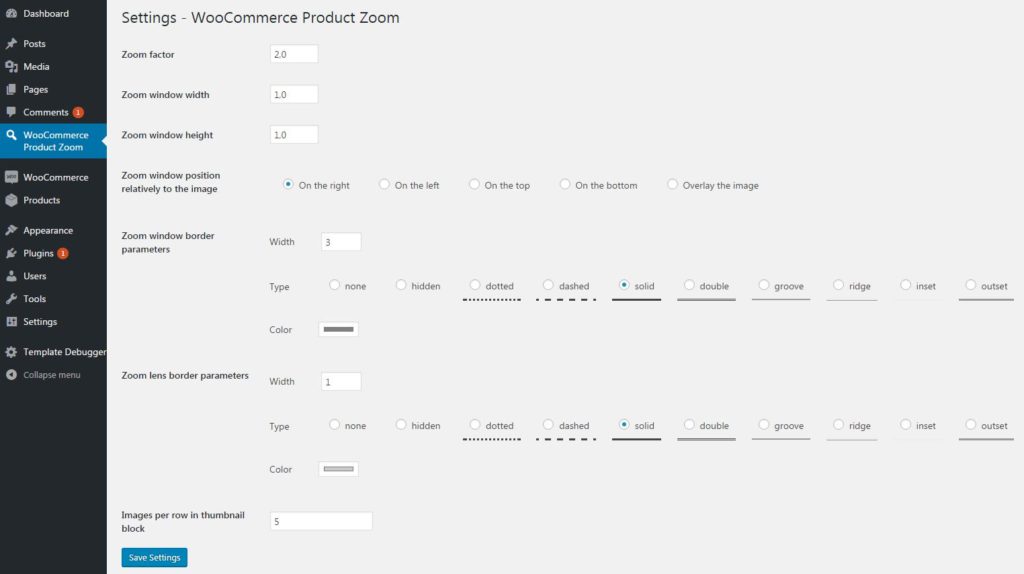 Here, you can set particular extra fees for an order or apply conditional rules on checkout. It is easy for you to manage multiple conditional rules with scheduling fees for a particular time period, set multiple conditions for extra fees. While you set a condition for the product, additionally you can give a discount on that discount.
Surprisingly, this plugin has 16 different condition rules to apply on orders to increase revenue and sales. When you charge extra fees during checkout there is flexibility to select between the fixed amount and percentage-wise applying fees. This fees can also be applied to cart subtotal in order to increase average order value.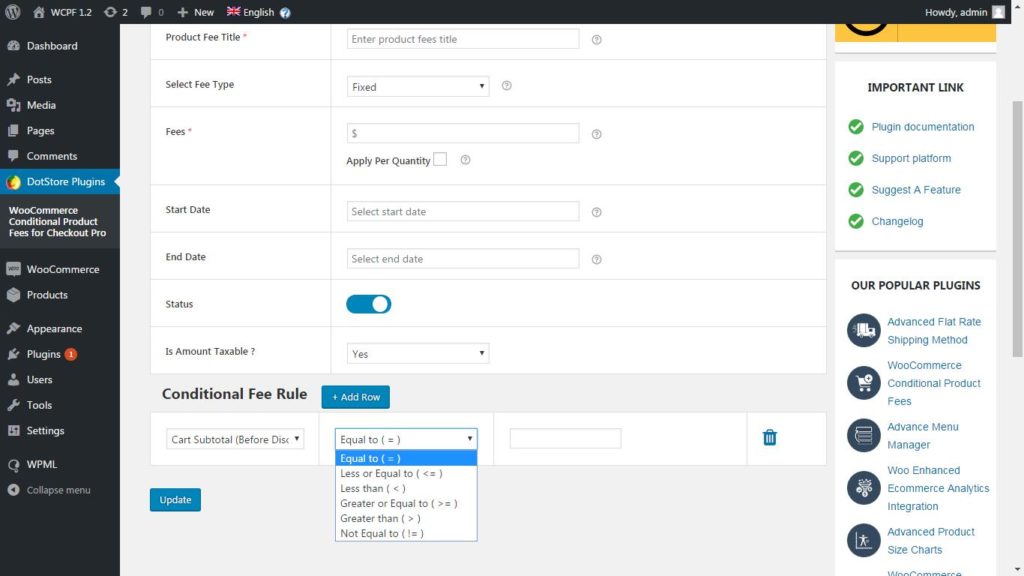 When you land on a particular website you are welcomed with a quick notification. These notifications engage visitors a lot. When we say notifications, it might be related to social media, newsletter, and post content, sharing content, countdown or even search button.
You can set priorities for each notification, if you want to hide/ unhide a notification you can do it from their settings, select color of your choice from unlimited colors available, import/ export notification bars, if you are unaware about the working of each available notification bar then simply click on Import Demo content and all the buttons will be placed accordingly. Thereafter, you can select notifications of your choice and learn their functionalities in the demo itself. You can also track the number of views or clicks per page, per article. You get a lot of shortcodes to select and use for your store with all the demos available.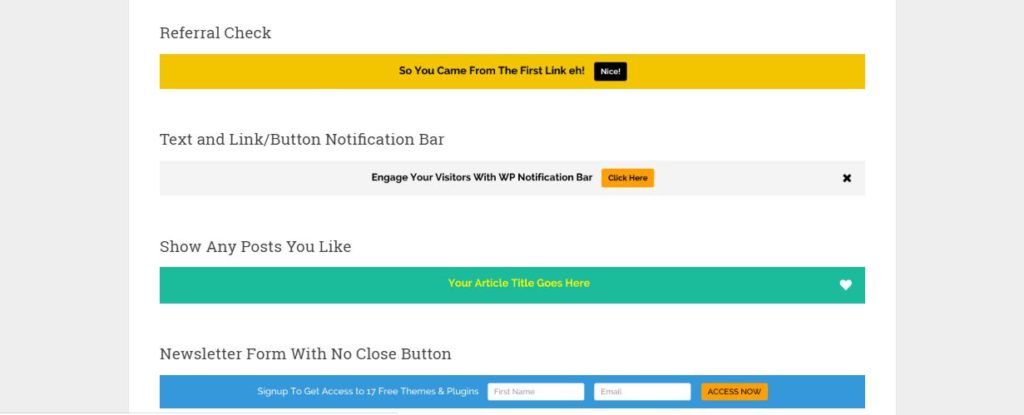 24. Amazon Pay
When you install Amazon Pay, you can quickly set up and start using it. In order to boost up your sales, Amazon Pay is an interesting option for your store. This plugin will help you to retain customers, increase sales, provide easy checkout option, block all fraudulent activities, multi-currency functionality and most importantly reduces the ratio of unsuccessful transactions. This is one type of checkout option wherein if a customer has Amazon account they can quickly log in and proceed to payment with this.
Here, customers can select a shipping address and a payment method to check out and then it's done!!!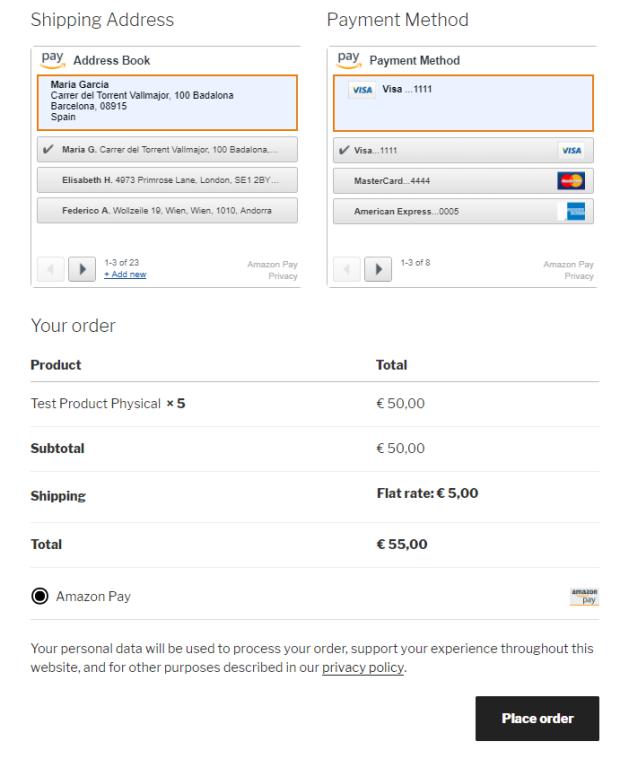 If we talk in eCommerce, post-shopping experience customer is what every store owner needs to be careful about. Once they order a product it is good to give them an estimation of delivery in time or date in order to keep them updated about their product delivery.
This plugin turns out to be a very useful tool in providing options to the customers for product delivery. You can set delivery dates, disable delivery on weekends, holidays and others. You also have the option to set the minimum product quantity for customers in order to increase average order value.
Suppose, if you want to set a number of deliveries per customer that also you can do it right here without any complexity.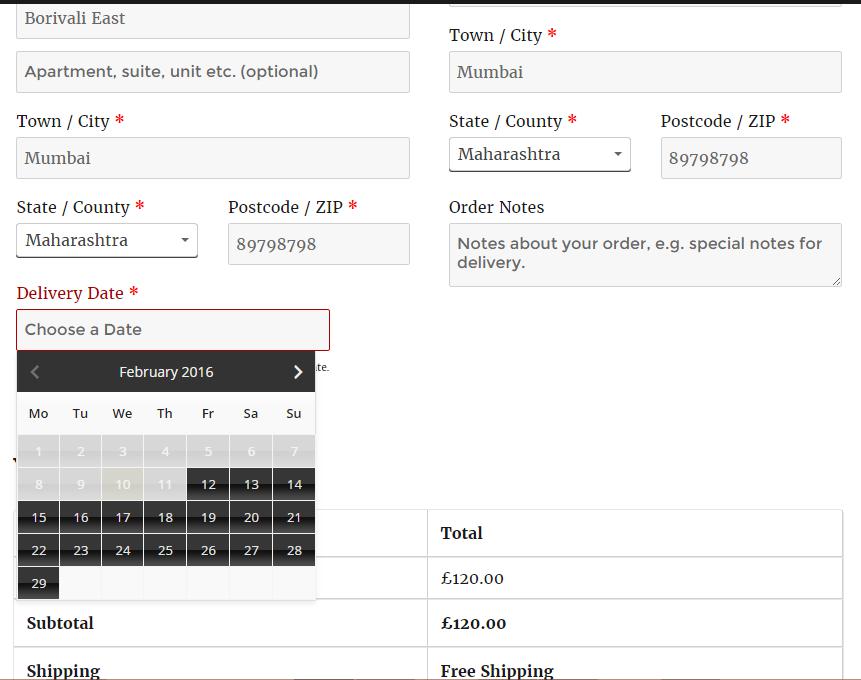 To sum up, when you start an online store these plugins can be handy for you to get going and set up everything smoothly and quickly to start receiving orders from more and more customers. This will boost up your sales, productivity, revenue and most importantly customer retention ratio thereby building more trust. So, let's start with WooCommerce Development today and explore its powers.